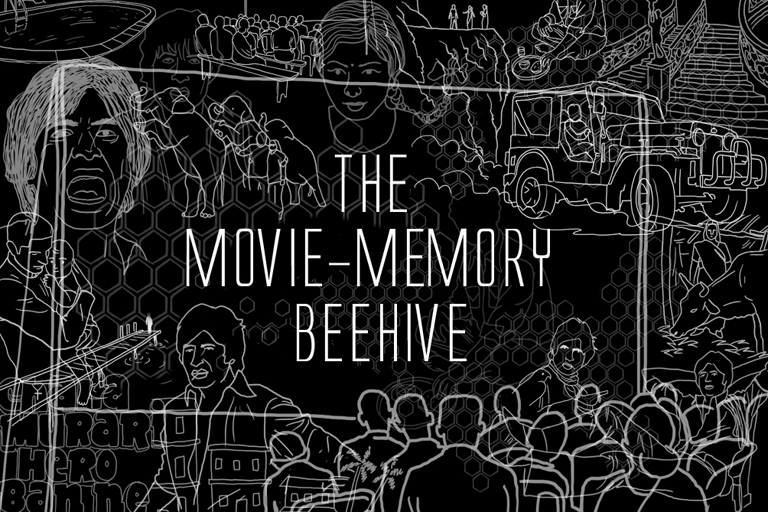 My name is Swar Thounaojam. I was born in 1980 in Imphal, Manipur, near Myanmar. Various clerical jobs allow me to write plays and direct some. It is a high-functioning and catastrophic form of madness. I do theatre; I haven't done cinema yet.
Indian Cinema, to me, is a beehive of scenes and images that broods inside my head. These scenes and images are from a distant past, from films I have forgotten I even watched. They are from regional films I watched as part of my Sunday afternoon Doordarshan ritual. Some come from Hindi films my family and neighbours would screen in the neighbourhood or take me to watch. Many of course are from the Manipuri films my parents love deeply. I can barely remember the titles and storylines of the films. I can't even remember the actors; except for the Hindi film ones because they are ubiquitous. But disparate scenes and images have got lodged inside my skull. I keep turning them in my head to remember what they were all about. And unable to remember much, I wonder what they were and reimagine them constantly.  They somehow remain inviolate inside the mind. They become a constant element of the mind, its memory and sometimes its workings. They might become epiphanies. Who knows? But they never leave.
How does this beehive work inside somebody else's head? How does Indian Cinema reside in the mind of a person who watches it with care and wonder but hasn't made a vocation out of it (yet)?
I pursued three actors who work in the theatre and are currently working with me on a new theatre and video project. I asked them to tell me something about their beehives, sketch something on a sheet of paper of what they remember, and I took their headshots with the help of two photographers, Amit Bansal and Tapan Pandit.
Art-work, based on their sketches, has been evolved by illustrators Sunaina Coelho and Fahad Faizal.
THE INDIAN CINEMA BEEHIVE THAT LIVES INSIDE THE HEAD OF PLAYWRIGHT, THEATRE ACTOR AND DIRECTOR, SANDEEP SHIKHAR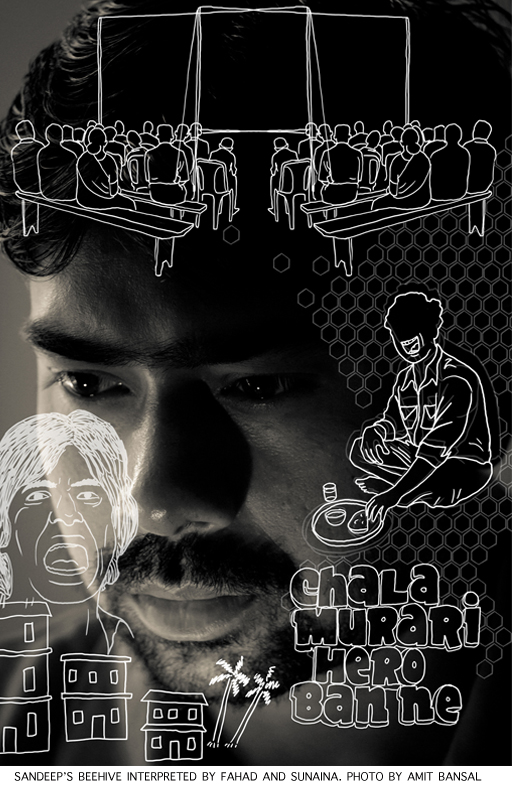 Sandeep Shikhar was born in 1978 in Dhanbad in Jharkhand, left his hometown in 1999 and now lives in Bangalore. He thinks Kaala Patthar was the first film he watched in a cinema hall but remembers nothing about it. He was a loyal fan of Amitabh Bachchan and used to collect fifty paisa postcards of the superstar. He had a collection of 100 such postcards. One postcard had Amitabh Bachchan holding a tokri. A friend saw it and pointed out that it was from a scene in Kaala Patthar.
He can't remember how it all began but a regular three-day film screening happened every summer in his old Dhanbad neighbourhood. It took place in a ground which was more like a small town square ringed by everybody's back doors. Maybe it was ticketed, he can't remember, but one film would be screened each night. A white sheet was strung across two poles; the projector sat in the middle of the crowd and fascinated them with its muscular whirr and its big beam of light that carried and threw the film onto the screen. Neighbours who couldn't find a seat in the ground or were too lazy to get out of their homes would watch the film from their doorsteps and windows, and a sizeable number of them would be watching it from the other side of the screen where the film moved in the opposite direction. Night breeze would gently billow the screen and depending on its direction create concave or convex bulges, producing manic distortions of the moving images. As there was no money to hire a generator, the screening would stop whenever power went off. People would wait out in the ground or go to their houses to continue or finish chores. When power came, the screening would resume. It was quite a domestic affair.
Sandeep remembers watching a film called Chala Murari Hero Banne one such night.
He asked his neighbour sitting next to him.
Maybe it is Asrani. I don't know.
The hero had curly hair and was fair skinned. Maybe it was Asrani.
The film is again forgotten like many others but one scene remains and now lives inside the beehive.
In the scene, the hero was eating only dal and roti. The dal had grit in it. He carefully broke the roti into small pieces and dipped them into the dal. He was eating very tiny portions and it struck Sandeep as highly unnatural. How could a man eat such tiny portions? Sandeep was also intrigued by how the hero chewed and talked simultaneously. It was something he'd never done in his life or imagined doing. After watching the film, he went home and imitated the eating manner of the hero. Over a few days, it became an obsessive practice. He would break his roti into small pieces, dip into his dal, chew and try to talk simultaneously just like he'd seen in the film. However, he never managed to master the ease with which the hero of Chala Murari Hero Ban Ne ate his unnaturally tiny portions of food and talked at the same time. Sandeep remains intrigued. He replays the scene and wonders how the hero pulled off such a feat. It was banal, unnatural and captivating.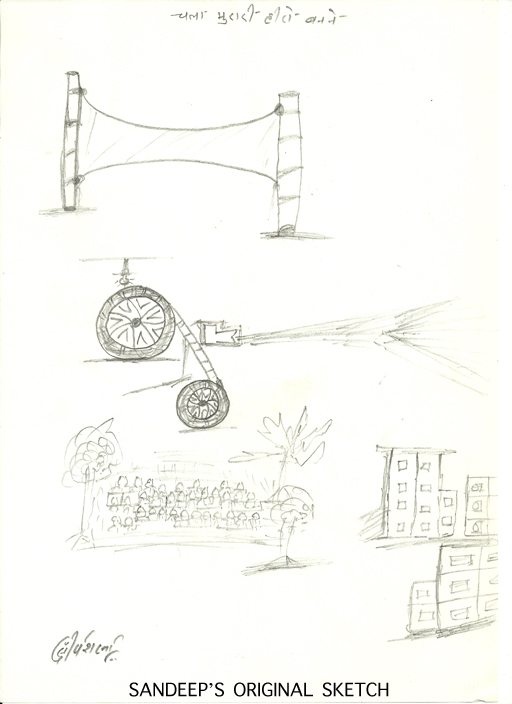 THE INDIAN CINEMA BEEHIVE THAT LIVES INSIDE THE HEAD OF THEATRE ACTOR, ANU HR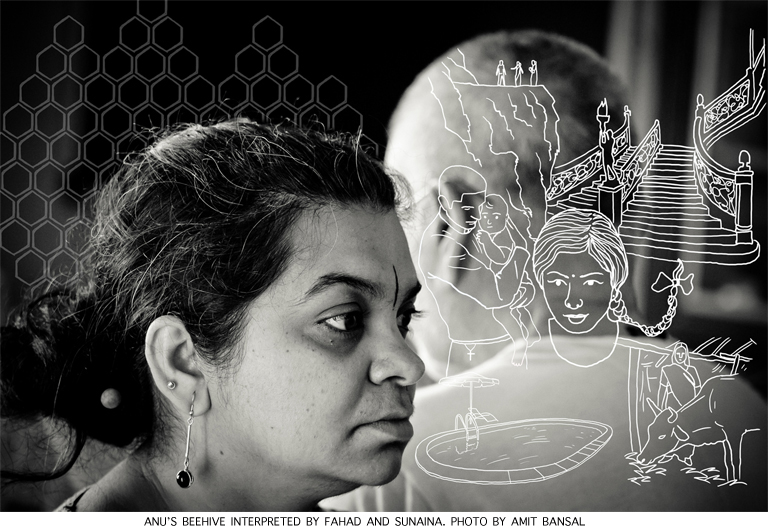 Anu HR was born in 1977 in Bangalore in Karnataka and has never lived outside of the city. The first film she watched in a cinema hall was Gandhi where both she and her brother threw a fit and cried in the hall. Her parents had to take turns to babysit them outside the auditorium and watched the film in parts. Going to the movies was a rarity. She mostly watched her films on the television. She was brought up on a regular diet of Sunday afternoon regional films on Doordarshan. However, she remembers a trip to the infamous Sangam Theatre (it was rumoured that the place screened adult movies) to watch a Hollywood thriller. Her father had taken them to the theatre and his choice of venue made them curious. Nothing X-rated happened in the film though.
What lives inside her Indian Cinema beehive?
The wide U of a girl's gravity-defying plait framed the body of a majestic staircase with a grand landing. The girl's hair was long, fully oiled and single plaited with a tiny bow at the end of it. The plait, instead of falling on her back like any other normal plaits, curved into a tight U and hung mid-air. Anu wanted her plait to hang mid-air in the shape of a U, just like it did in the film. She oiled her hair, plaited it tightly and tied a ribbon at the end of it. However, her plait would never hang mid-air in the shape of a U. It was a Tamil film.
A priest held a baby at a burial ground. The teenage mother died at childbirth and the young father had committed suicide before their child was born. It was a Tamil film.
Atop a green hill, two women and a man stood talking. One woman held a child— she was the wife of the man who had an affair with the second woman who was now carrying his child. It was a Tamil film.
A girl in a white and red tant saree stood alone inside a cow shed. She was deaf and mute. Anu thinks it was based on a story by Rabindranath Tagore. It was a Bengali film.
A real swimming pool on screen. Anu was surprised to see a real swimming pool in an old Kannada film because she had always found they used random water tanks to film swimming scenes.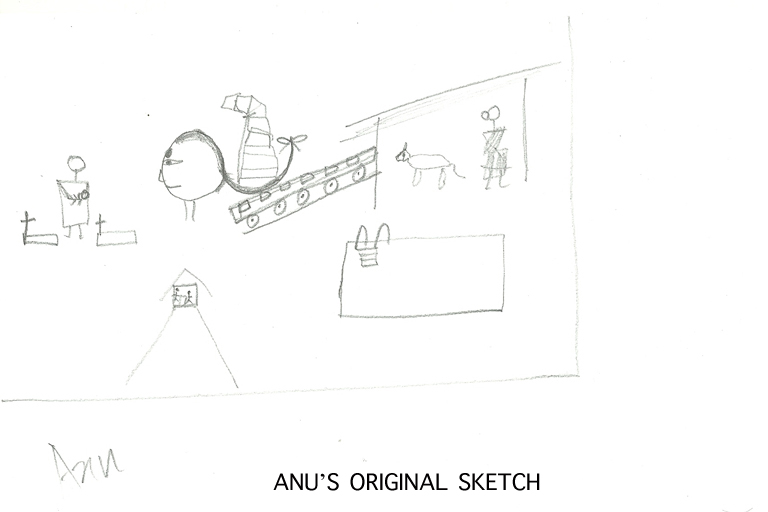 THE INDIAN CINEMA BEEHIVE THAT LIVES INSIDE THE HEAD OF THEATRE ACTOR, ARJUN RADHAKRISHNAN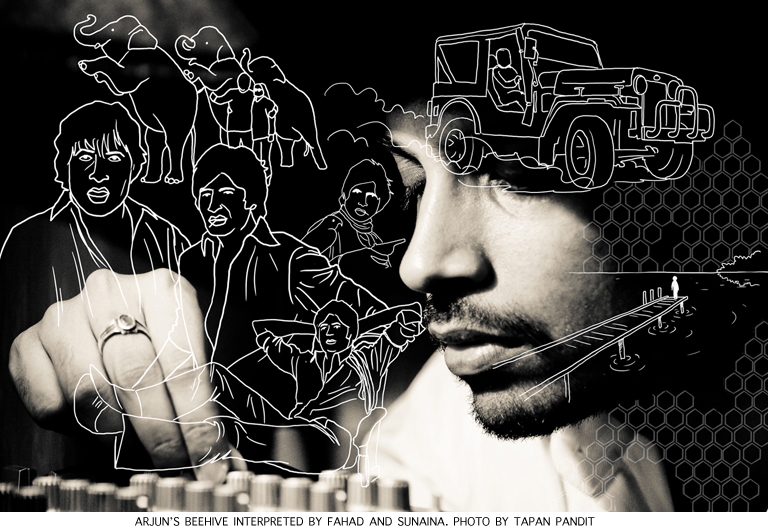 Arjun Radhakrishnan was born in 1985 in Nagercoil in Tamil Nadu but spent his first five to six years in Kerala before shifting to Pune in 1991. His first ten years consisted of watching a lot of Malayalam films. He watched his first Hindi film on Doordarshan and it was Haathi Mere Saathi. He also watched many old Amitabh Bachchan films. Both his parents work and it is difficult for them to find time to go the movies regularly. Like Anu, most of their film watching happens on the television. However, his mother makes it a point to go watch superhit films that have word-of-mouth credibility or high ratings in film reviews.
He finds it nearly impossible to watch films at multiplexes. The tickets are way too expensive for him. When multiplexes entered Pune in 2002, morning shows were available at Rs. 49. He watched those morning shows. Now the morning show option is no longer available.
The primary image brooding in his Indian Cinema beehive is the larger than life image of a hero. He aspires to it because he has moved through much his life as an underdog. The image is not benign either— there is the hero holding an iron rod, ready to whack the villains. Mohanlal in Kireedam or Amitabh Bachchan in Agneepath.
A Malayalam film. A hero in a jeep is chasing a villain down a winding road. The image of the feet pressing the accelerator has never left his mind. He's forgotten who played the hero and the villain in this one. Who were they? Now that he's started to seriously revisit this memory, he desperately wants to know the names. He googles. Mammootty was chasing Rahman.
While he was devising several search strings to put the right name and face to his accelerator-happy hero, he suddenly remembered his old compulsion to take pictures of people and places so that he could recall everything perfectly. This exists no more.
How did it change then?
In The Namesake, the father takes his son to the far edge of a pier, after asking him to leave his camera with his mother who is standing on the shore. The father tells the son to just absorb the image and keep it in his head. They stand together and watch the sea and the horizon beyond.
For Arjun, this scene was an epiphany.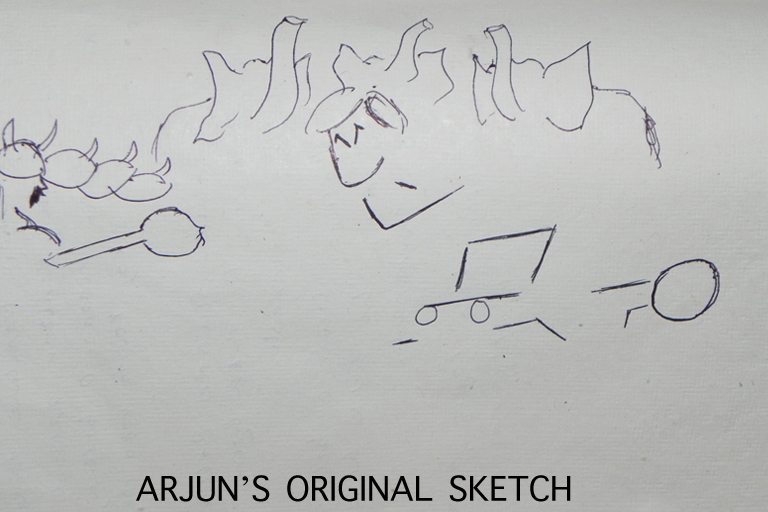 |
The Movie-Memory Beehive
Article
November 2012

By Swar Thounaojam
Swar Thounaojam is a Bangalore based playwright and theatre director.