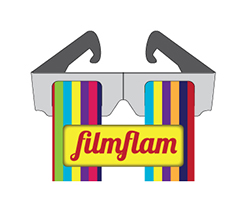 filmflam is a new monthly column on the most exciting things to do with the movies online: photographs, art, writing, blogs, websites, trailers, films, tutorials, archival material. Our custom-made curation of cinematic coolth. 
Ebert on a shirt, hot wheels and Punjabi pixies
The Roger Ebert Review I'd Like To Wear On A T-Shirt
Ten days ago, Roger Ebert left us for that great aisle seat in the sky. It's hard to speak about the impact Roger had—on all of us who read about film—and the Internet is justifiably flooded with eulogies, tributes and lists quoting from his extensive library of reviews.
This piece from Forbes, for example, sharply highlights what makes Roger's legacy so vital while (perhaps too snarkily) putting down other obits. And this bit by Jim Emerson, who worked closely with Roger on his website, provides some telling detail about the man— most importantly that he'd prefer we not gush maudlinly about his passing.
So we should smile. At Roger's deliciously heady and unbelievably profane 'interview' with Lee Marvin; at a slugfest of an interview Playboy did with Ebert and Gene Siskel; and at that 2010 Esquire profile of Ebert which filled us with hope and wonder while snapping our collective hearts like twigs.
Like I said, there are lists everywhere: of his best reviews, his meanest putdowns, the best of his sentences, and yet more of his harshest. Heck, you probably have your own lists. We all do.
Which brings us down to my pick for The Roger Ebert Review I'd Like To Wear On A T-Shirt.
It's for a 2004 movie called Shaolin Soccer.
You remember Shaolin Soccer, don't you? It was that hyperkinetic Stephen Chow film about a ragtag bunch of misfit loony tunes who could make the X-Men feel unspecial. I don't love the film (and feel Chow's next, Kung Fu Hustle, was far more stylish and satisfying) but Roger did. But that's not why I think this is one of his most important reviews.
I think this review matters massively because in it Roger breaks down that bane of a film critic's existence: the star-ratings system. A film we rate three stars isn't automatically better than a film we rate two stars; it's apples and oranges; films are rated not merely on a sliding scale, but on one that bends and timewarps and shapeshifts and rollercoasts.
Like Roger says while giving Shaolin Soccer three stars, "it is piffle, yes, but superior piffle. If you are even considering going to see a movie where the players zoom 50 feet into the air and rotate freely in violation of everything Newton held sacred, then you do not want to know if I thought it was as good as Lost In Translation."
It's priceless. Trust me, if there is only one movie review you read today (and then pass along to everyone you know), make it this one. Here you go.
This subjectivity—of how there are different standards for different films—is something most people who read reviews fail to understand, and it kills those of us forced to boil our paragraphs down into an empirical ranking. (How I can possibly rate, for example, three episodes of a television sitcom better than the year's Best Picture winner on my annual English movie list, for example.)
In 2008, Ebert wrote wonderfully about star-ratings again, unashamedly putting down purely personal reasons for giving "too many stars", before pointing us towards a truly inspired visual rating in The San Francisco Chronicle that he called the only system that works. And, as was the norm, Roger ended the piece immaculately.
~~
Trailer of the month: Rush
(Or, if you so prefer, Thor-mula One)
I can't believe I'm this kicked about a film directed by Ron Howard. Look, I've nothing against the guy; I dug Happy Days hugely in the day and think he's incredible as the deadpan narrator of Arrested Development. But to queue up for the man who made The Da Vinci Code and Cinderella Man?
Yup.
Because this time he's taking on Formula One. And, from the looks of it, he's on the right track. (Sorry). In Rush, coming to theatres this September, Howard takes on one of Formula One's most dramatic, most scintillating true-life battles: the fight between James Hunt and Niki Lauda for the 1976 World Championship. The word 'epic' comes to mind… and then exits mind immediately for not being nearly bombastic enough. It's a scorcher of a story.
The film stars Chris Hemsworth as Hunt, the most glamorous and eccentric Formula One champion in history, a true character. And opposite him is the stoic Austrian hero Niki Lauda, played by Daniel Brühl, who most of us remember from Inglourious Basterds.
Perhaps most importantly, Howard's got the right guy to write the film. British playwright and super-scribe Peter Morgan, the man behind The Deal, The Queen, The Special Relationship and—the last time he collaborated with Howard—Frost/Nixon. Oh yeah.
Shot by the ever-striking Anthony Dod Mantle (Dogville, Slumdog Millionaire, Antichrist), Rush is looking mouthwateringly good. Here, after all that ado, is the trailer: the US version gives away a bit too much, so try not to click on that, but the international version is delicious. Vroom.
~
Tumbl this: Vol 1
There are too few truly incredible tumblrs to do with Hindi cinema. There's a smattering—Paagal Subtitle is grand, and moments of genius can be found at the irresistibly titled Feminist SRK—but all in all, the insanely amazing, amazingly insane world of Bollywood is woefully underrepresented on Tumblr.
To that end, I propose to suggest one Tumblr topic each month. One with enough meat on it so you guys can roll with it and turn it into something flabbergastingly great.
Here, then, is the one this month, taking a cue from a review I wrote a couple of days back for a trashy film. You all know what a Manic Pixie Dream Girl is, right? (Okay, it's a highly overused character archetype, one who sassily storms into the hero's mostly sedate existence and whirlwindily brings him to life.)
What we need to look for? The Manic Punjabi Dream Girl.
Like Kareena Kapoor's Geet from Jab We Met. Like Kajol from Kabhi Khushi Kabhie Gham.
Basically everything a standard MPDG is, just dialled up louder, with an exaggeratedly heavy accent and (much) flashier clothing. Go on, bring forth thy kooky kudis.
|
It'd be more helpful if this column allows right click, or at-least hyperlinks opening in a new tab...
filmflam
Opinion
April 2013

By Raja Sen
Raja Sen is one of India's leading film critics. He also contributes profiles, interviews, culture critique and book reviews to various publications. In his own words he is a W.R.I.T.E.R. Foremost and at all times.