Tim Etherington-Judge is one of the world's best mixologists. His quest for the perfect cocktail has led him to travel across the globe. While he was in India he also set up the Bombay Cocktail Club. TBIP asked him to create six cocktails for six of his favourite characters from the movies. 
White Russian for Jeff Bridges as 'The Dude' from The Big Lebowski
40 ml Ketel One Vodka
20 ml Homemade Arabica Coffee Liqueur
40 ml Fresh Cream spiced with Cinnamon, Cloves and Star Anise
Garnish: Lightly-Toasted Whole Star Anise
His Dudeness' drink of choice is given a quality makeover. We use the bartender's favourite vodka, Ketel One, along with a homemade 100% Arabica coffee liqueur and spiced fresh cream. The 'weight' of Ketel One marries well with the fresh cream and homemade liqueur for a substantial and 'fat' drink.
In an old-fashioned glass, add some ice cubes, slowly pour the vodka and coffee liqueur, gently stir, and top up with fresh double cream pre-whisked with cinnamon, cloves and star-anise. Garnish with a lightly toasted star-anise for a spicy nose.
Martinez for Daniel Craig's James Bond from Skyfall
40 ml Tanqueray No. Ten Gin
15 ml Rosso Vermouth
5 ml Maraschino Liqueur
2 dashes of Orange Bitters
Daniel Craig has brought a darker, moodier and grittier side to the James Bond films and with Skyfall it's about time we updated his signature drink to something more befitting. We use Tanqueray No. Ten Gin, an export-strength (47.3%) gin with a unique full-bodied character, Rosso Vermouth, a dash of maraschino cherry liqueur and a little orange bitters to create a deeper, more intense experience to Bond's classic martini. Shaken and not stirred, of course.
Combine all the liquid ingredients in a mixing glass, add plenty of ice and shake for 45 seconds. Strain into a chilled coupette or cocktail glass.
'Storm in a Teacup' for Tom Hardy as Charles Bronson in Bronson
60 ml Ron Zacapa Centenario 23
Fresh Homemade Ginger Beer
4 dashes of Angostura Bitters
Garnish: A 3 to 4 inch chunk of Lightly Toasted Cinnamon Bark
Tom Hardy's performance as Britain's most notorious criminal is a powerhouse acting performance and deserves a drink to match. We use Ron Zacapa 23— an exceptional Guatemalan rum, created from only the first pressing of the cane followed by Solera blending, fresh homemade fiery ginger beer and lashings of spicy Angostura bitters. Instead of the traditional highball glass, in our version of the Dark and Stormy, we use a teacup that is inspired from the scenes in Bronson where the protagonist is shown serving or drinking tea in prison.
In a teacup filled with ice cubes, pour in the rum, followed by the ginger beer. Lash with Angostura bitters and stir. Serve with a big stick of toasted cinnamon on the side.
'Pai Mei's 5 Point Palm Exploding Heart' for Uma Thurman as Beatrix Kiddo in Kill Bill 2
60 ml Don Julio Añejo Tequila
1 bar spoon Fresh Grenadine
3 dashes of Grapefruit Bitters
Garnish: Tangerine Twist
Inspired by the final act of Kill Bill 2, which sees Tarantino at his very best with electric dialogue whilst Bill sips tequila, this drink is a perfect tribute to the '5 Point Palm Exploding Heart Technique' that Pai Mei teaches Beatrice Kiddo, and via which she finally kills Bill. Grapefruit bitters give an exquisite twist to the luscious, almost brandy-like aged Añejo.
Shake lots of ice, 60 ml of Añejo, a spoonful of grenadine and 3 dashes of grapefruit bitters for 45 seconds and serve in a coupe. Garnish with a grapefruit or tangerine twist.
Pink Gin for the cult Steve Buscemi as Mr. Pink in Reservoir Dogs
90ml pre-chilled Tanqueray London Dry Gin
4 dashes Angostura Bitters
Garnish: Lime Peel
Here's a straight drink for Steve Buscemi's straight-talking Mr. Pink—"You wanna fuck with me, I'll show you who you're fucking with."—an upsizing of the classic drink with a serious measure of Gin and ample bitters, so the man doesn't have to complain about Pink sounding too tame ("How 'bout if I'm Mr. Purple?") ever again.
Don your coolest black suit, put on Baker's 'Little Green Bag' on the record player really loud, crack open an icy bottle of Tanqueray London Dry Gin, and stir an extra large measure with lots of Angostura Bitters into a martini glass.
Garnish with lime peel, rubbing it first on the rim. Don't use ice, and don't tip the bartender for this one, please.
The 'Hepburn Martini' for Audrey Hepburn as Holly Golightly in Breakfast at Tiffany's
12 fresh Mint leaves
45 ml Ketel One Vodka
7.5 ml Green Crème de Menthe Liqueur
7.5 ml Dry Vermouth
45 ml Sauvignon Blanc Wine
7.5 ml Sugar Syrup
Garnish: Small to Medium Sized Pink Lily
The brightest star ever to shine in Hollywood deserves a complex drink to match the flirtatious sparkle that Audrey brought to the screen. We partner Ketel One vodka with an equal measure of crisp Sauvignon Blanc wine, minty crème de menthe, a little dry French vermouth, fresh mint leaves and just a little sugared sweetness, just like Audrey herself.
Lightly muddle (just to bruise) mint in base of shaker. Add all the other ingredients, shake with ice and fine strain into a chilled tall glass. Garnish with a lily or orchid stem inside the glass, facing the guest, and a tall straw.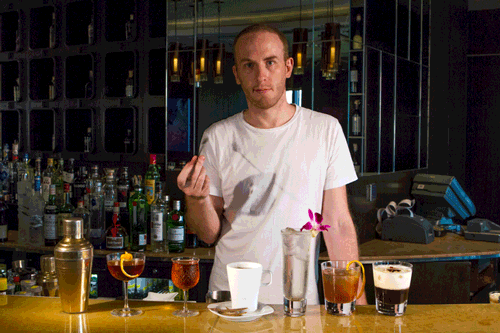 Tim Judge
|
6 FOR THE ROAD
Special
October 2013

By Tim Judge
Tim Etherington-Judge is a bartender at heart, Diageo Reserve Brand Ambassador for Africa by title (he was Brand Ambassador for India, for two years, before he moved this year), vegetarian, mountain biker, self confessed tree hugger and lover of British men's fashion. He has, in the last six years, explored every continent on earth, with the exception of Antarctica, been robbed at gun point in Kenya, dived with sharks in Thailand, hosted whisky dinners with royalty, been involved in the world's biggest bartending competitions, played father christmas for slum children and had a thousand other experiences along the way.

By Kavi Bhansali
Kavi Bhansali is Creative Director at TBIP