Beth Watkins dissects an age-old rivalry between two of Indian cinema's biggest icons, that is part real, part concocted in the minds of their followers. 
Fencing match. Duel. Swordfight. Movie manifestation of what would become a legendary rivalry between the titans of Bengali cinema. Call it what you will, it is the moment I most eagerly anticipated in Jhinder Bondi,  Tapan Sinha's 1961 adaptation of The Prisoner of Zenda and the first pairing of West Bengal's most famous actors, Uttam Kumar and Soumitra Chatterjee. Kumar, already well established as the king of Calcutta cinema, plays royal lookalike Gauri Shankar Rai. He comes to the beleaguered kingdom of Jhind to stand in for their missing ineffectual king (also Kumar), who has been kidnapped by a devious brother. Chatterjee, just a few films old after his debut in Satyajit Ray's Apur Sansar (1959), is the kidnapper's conspirator Mayurbahan, the story's principal face of evil and the actor's first stab at villainy.
When I first watched Jhinder Bondi,  I had little idea who either of these men were and had no investment in them beyond how they were performing in the film at hand. But there was a lot riding on this swordfight simply because I'd heard so much about it. Everyone I asked about Jhinder Bondi, every write-up of the film online, implied some kind of epic confrontation, satisfying in the story of the film in itself but also significant for splashing onto the screen the kind of real-life celebrity conflict fans live to witness.
Jhinder Bondi  is full of ingredients that implicitly promise some kind of mano-a-mano confrontation as well— arrogant men with blousy satin shirts and matinee mustaches clanking around with swords hanging from their belts. Gauri practices fencing in his Calcutta club. Mayurbahan throws a drink in the imprisoned king's face. They try to stare each other down on horseback (even if equestrian malfunctions interrupt the tensions).
Everything seems to whet your appetite for the great climactic duel I had heard so much about. Except, in the end, it doesn't come. What actually transpires is choreography I like to call a strangulation tango: in the shadows of the palace dungeon, the protagonist and antagonist lunge at each other, but as Gauri restrains Mayurbahan's sword arm, Mayurbahan knocks Gauri's pistol away and pins him against the wall. Violins tremble in the background, facial muscles strain, and Gauri fumbles for his dagger and stabs Mayurbahan, who reluctantly collapses onto the floor.
Now, maybe years of consuming Manmohan Desai have made me unfairly expect something larger and grander in scale but this is certainly not the end it was billed to be.
Disappointment notwithstanding, in the months after I first saw Jhinder Bondi,  I went on to fall head over teakettle in love with vintage Bengali cinema. However, amidst all the Ray, Mrinal Sen, Ajoy Kar, and even some Sukhen Das, I keep coming back to Jhinder Bondi, partly because it's so entertaining but mainly because I am fascinated with the fact that this epic confrontation, that so many people remember in its climax, does not exist.
I have no idea why the scene I was made to imagine by fans of the film does not exist but what is clear is that people want this scene to exist. It has long been believed that the world of Bengali cine fans is divided into those who love Uttam and those who love Soumitra. We want to see Uttam and Soumitra, so close to their prime as actors and men, duke it out— Uttam's hair impeccably in place despite turbans and Soumitra's eyes glinting with evil instead of brimming with grief as usual. The scene needs to exist so we can compare them directly, not just in the same film but in the same situation, and have one idol emerge the undisputable king of Bengali cinema. We need evidence to go with our respective faiths.
Particularly because otherwise it isn't easy to imagine them on a common ground where they could face-off. They cannot really be compared as stars. They're simply too different. One was called 'Guru' and 'Mahanayak' (the great hero) by his fans, so great that the metro station in the filmmaking Tollygunge area of Calcutta has been officially renamed Mahanayak Uttam Kumar and its interior plastered with his image. Outside the station is a larger-than-life metal statue of the man striding confidently in billowing dhoti-kurta. Soumitra on the other hand is the sort of star that is revered, not nick-named. The movie-consuming public seems not to have been moved to give this international yet still very Indian star an honorific, a superlative, or even just an affectionate shorthand. When I asked a Calcutta-bred friend to provide the local version of "thinking woman's crumpet", he suggested I call him "Soan Papdi": a popular Indian sweetmeat complexly layered, delicious, delicate yet substantial.
Examined from our far-away perch in 2014, this popular concept of rivalry could have had its roots in the nature of the stars' projects and the industry in which they worked. After all, Jhinder Bondi,  their first film together, pitted them as enemies, even opposites: Kumar in a dual role as both selfless hero and innocent victim, Chatterjee as unjust usurper who cackles in the face of virtue. They were often cast in opposing roles in real life too. The two men were affiliated with different artistes' associations that were occasionally in boisterous conflict, dragging the two figureheads into the fray (probably against their will). They were also each a part of the two different sub-industries in Bengal. Kumar and his star power were the very center of the matinee movie machinery. Chatterjee was the flag-bearer of respectable, intelligent movie-making in Calcutta— at the centre of which was the work of Satyajit Ray, Chatterjee's long-term collaborator and mentor. When Ray was asked why he preferred working with Chatterjee over Kumar, he is rumoured to have said "Ghee'er kaaj Dalda diye hoye na (You cannot use cheap emulsified oil where only clarified butter will do)." When Ray did cast Kumar finally, it was in the role of a restless, ruthless superstar in Nayak— a character bearing close resemblance to Kumar in real life. Ray went to the extent of saying he would have shelved Nayak had Kumar not agreed to be a part of it. And yet, he worked with Kumar only once after Nayak. Nayak  remains one of Kumar's best films to date but in a recent interview his co-actor in the film, Sharmila Tagore, attributed his performance to Ray's genius direction saying, "Manik da (Ray) was a better actor than Uttam Kumar."
Their actual life stories up to the point of stardom are also in stark contrast— one rocky and a bit unlikely, the other well-poised and full of momentum. Kumar, from a nondescript upbringing, held an office job and delivered flops early in his career before redefining the Bengali film hero and still embodying it 60 years on. Chatterjee, a graduate student in literature, editor, poet, and theatre protégé, became an instant star through the film that more than half a century later remains a masterpiece of India's globally best-known director (Apur Sansar ).
If their lives had differences, then perhaps, sadly, Uttam Kumar's death may have fossilized the contrasts. One of the first mythic-but-true stories I heard about Bengali cinema was that Kumar, aged 54, had a fatal heart attack while shooting a film. He had already been moving away from hero roles but had yet to truly age as a major star when he died. Chatterjee, now 78 and making multiple films a year in addition to his work in theatre, has grown old before our eyes both as a human and as an actor. Chatterjee's image and impact continue to be shaped by his further decades of work, but Kumar's can be enhanced or diluted only by us, not by the efforts of the man himself.
To the narrative built on their origin myths, bodies of work, and roles in the industry, add their typical acting styles. These too seem to position the performers at odds. In his reflection on Uttam Kumar in the magazine Sunday after Kumar's death (and now included in the Columbia University Press collection Satyajit Ray On Cinema ), Ray discusses his joy at working with such an easy, confident, instinctive actor in Nayak (1966), setting that experience off from that of directing a cerebral actor who analyzes and probes his characters. Ray doesn't name anyone in particular here, but one imagines he means the man he cast in half of his feature films. In The Master and I: Soumitra on Satyajit, a book by Chatterjee on his decades of work with Ray (an English translation by Arunava Sinha), he repeatedly mentions the talkative, discursive nature of their long friendship. We audience members don't even need stories from the sets to appreciate these differences. We can see it in their performances. Kumar's nonchalance puts joy, loss, and passion at the perfect scale for empathy; Chatterjee is at his best when his characters are deep in thought, whatever that thought might be, whether or not it is expressed out loud. Chatterjee claims he admired Kumar long before he became an actor himself and that the two were comfortable with each other, often hanging out at the Great Eastern Hotel post shoots. In an interview in 2012, to illustrate this comfort he speaks of, Chatterjee recalls an incident: "Once during a film shoot, he was getting stuck on a word and wasn't being able to pronounce it properly. There were a lot of takes and still he wasn't able to deliver the line. I was there and asked him what was going wrong and, mind you, we shared a very good rapport. He said after some time, 'Do something, go out for sometime'. So I did. Then in one take he delivered the line. When he came out, I asked him why he had asked me to leave and whether he was feeling uncomfortable in my presence. He told me, 'I was getting self-conscious. You have very clear pronunciation and I don't really have that.'"
If you simply must compare the two as actors, it might be most interesting to look at how they performed when visiting each other's home turf. The most prominent examples for Kumar may be his two projects with Ray: the flawless performance as the complex hero based on his own life in Nayak  and his often overlooked turn as the Bengali detective, Byomkesh Bakshi, in Chiriyakhana (1967). I may get booted from the Ray fan club for saying so, but I like his easygoing, slightly silly Bakshi every bit as much as I enjoy Chatterjee as the drier, more tightly wound and more famous of the two detective characters Ray portrayed: Feluda. It is significant, I think, that neither of these roles is the anxious or weary yet thoughtfully persistent protagonist that Chatterjee perfected with Ray.
Chatterjee as a more urbane Kumarian romantic lead seems uncommon too. He's suave in much of Aranyer Din Ratri (1970) but his detachment comes from restlessness, not from comfort. Barnali (1963) has a sweet, simple love story, but it takes the heroine far too long to realize she should be in love with the hero to imagine the Mahanayak in the role. Basanta Bilap (1973) focuses so long on the 'boys vs. girls' obstacle to romance that there's no time for an Uttam-Suchitra-style 'us vs. the world' drama. Where Chatterjee shines in a truly Kumar-type role is Baksa Badal (1965), a screenplay by Ray (directed by Nityananda Datta) that puts him in a dual role as a smug psychiatrist who also pretends to be a softer, kinder orchid enthusiast, the two identities indicated by the presence and absence of a mustache. There is a swaggery confidence in this comedic performance that is the closest I've seen Chatterjee come to unleashing his matinee idol potential.
The two went on to star in other films together but they were all rather dismissible for one reason or the other. Chatterjee is the villain in Pratishodh (1980), plotting to murder Kumar. They are both shades of despicable in Stree (1972), with Kumar as a cross between the zamindar from Sahib Bibi aur Ghulam and Jabba the Hutt (in temperament and mannerisms) and Chatterjee as the sensitive lover of the zamindar's cruelly mistreated wife. In other movies, Kumar is avuncular to Chatterjee's younger characters. In Jadi Jantem (1974), Kumar is a lawyer who proves Chatterjee's innocence in a murder trial and in Devdas (1979) Kumar plays Chunnilal, best friend to Chatterjee, ridiculously miscast in the title role. Which is what makes Jhinder Bondi  even more critical. None of these other films have the potential fire and brimstone that it offers up.
Now that we are back to where we began, you should know what happens to Chatterjee's villain (Mayurbahan) in the end, even though the legendary sword fight is just a legend. When we left off, Gauri (Kumar) had stabbed him with a dagger and left him on the floor of the dungeon. A few minutes later though, we learn he is not quite dead and staggers after both Gauri and the real king with his sword drawn. But before he can attack, he is felled by a shot in the back from a royal advisor who has come rushing to the scene. If this first co-starring film encouraged the idea of Chatterjee and Kumar as competitors, it also left each with his dignity regarding the other intact. Chatterjee himself talks about his relationship with Kumar as one of a "healthy rivalry," as well as brotherly and encouraging. Maybe it is time the rest of us learn to let go of our need to say "mine is better than yours" too, to respect both for what they achieved, and to appreciate their complementary, occasionally entangled legacies.
But where is the fun in that! In case you couldn't tell: #TeamSoumitra.
|
The Big Fight
Article
February 2014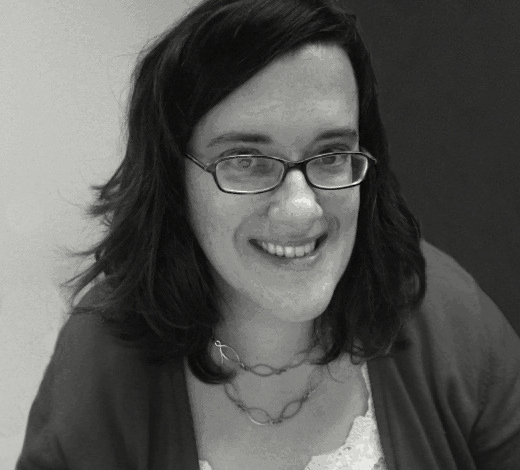 By Beth Watkins
Beth Watkins has been blogging about Hindi cinema since 2005 at Beth Loves Bollywood, which has been featured in numerous publications like The Times of India, The Indian Express, Business Standard, and The Globe and Mail (Canada). Her writing on Indian films has appeared in Hindustan Times Brunch, Tehelka, and Firstpost, and she has contributed to projects in international media such as BBC radio and CBC television. In 2011-12, she authored the weekly Bollywood Journal column in The Wall Street Journal's India Real Time blog. During business hours, she works in education, exhibit development, and publications at the Spurlock Museum of World Cultures at the University of Illinois.