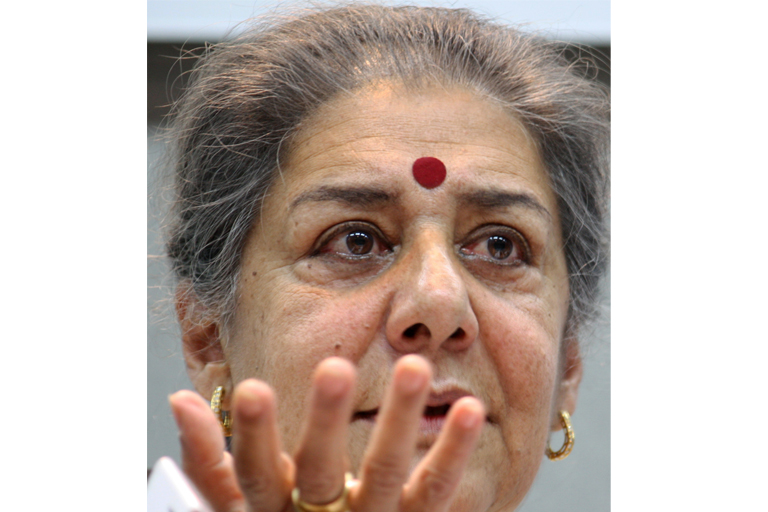 " …OUR HANDS ARE TIED BECAUSE THERE ARE NOT ENOUGH PROVISIONS."
69 year old Ambika Soni is a minister who believes in being heard. Known for being close to Congress President Sonia Gandhi, Soni has been one of the Indian National Congress' foremost voices on everything from the Sethusamudram Shipping Canal Project issue to the Anna Hazare movement. Her proximity to the Congress President, coupled with her own initiative, ensures that the Rajya Sabha member can get a lot of things done. 
Between 2006 and 2009, for instance, Soni has held two ministries– of Culture and Tourism. Her tenure has been marked by a successful 'Incredible India' campaign and World Heritage Site status for the Red Fort. Critics say, however, that a lot more was expected of Soni. The overhaul of Indian tourism infrastructure was one. The liberation of cultural institutions from the fiefdoms they were subject to was another.
As Minister of Information & Broadcasting (she took over in 2009) Soni started off on the right foot. She revived the NFDC by injecting fresh capital when it had all but shut down. Today, while she does take time out to deal with key party matters such as negotiations on the FDI and fuel price hike issues with Trinamool Congress boss Mamata Banerjee, the I&B Minister is also always at the forefront of debates pertaining to censorship and the authentication of TRP ratings. Here, she answers our questions about what the state has done for independent cinema, especially in her tenure, and what it intends to do. 
We'd like to know what the Information and Broadcasting (I&B) Ministry is doing for the promotion of independent and alternate cinema – particularly with reference to its distribution and exhibition.
We try through the NFDC (the National Film Development Corporation) to not only produce films but particularly help first time directors to make their films, which are quite often a new kind of cinema. Also the NFDC does a lot of marketing: at the IFFI in Goa, and by participating in international festivals. In the last two years our presence in (the Festival de) Cannes has acquired a much higher profile. We've given the responsibility of all of this to the NFDC. Also we have signed an MoU (Memorandum of Understanding) with the Ministry of Tourism for the promotion of film tourism (one of the things this MoU states is that the Ministry of Tourism will provide budgetary support to certain film festivals).  So the Minister of Tourism Subodh Kant Sahai and myself have synergized our efforts. This has really opened up a lot of doors.
In the last three years I've seen to it myself that the delegation going to Cannes does not comprise only of officials, other than the bare minimum. The Secretary (at the I&B ministry) goes for the inaugural because he is in charge of the reception. And there is another official for the final ceremony. But we have promoted four or five new directors who made good films by getting them to go to Cannes, and we've paid for all the expenses. These are things we've done to give them exposure and experience.
Now we've also signed an MoU (Memorandum of Understanding) with the Public Service Broadcasting Trust, where Rajiv Mehrotra, Shyam Benegal, Adoor Gopalakrishnan and Sharmila Tagore are trustees. Here too we are encouraging them to help make films with new directors on smaller budgets, especially documentaries.
This is good work that has been done over the last few years, especially in connection with film production. The money that has been put into NFDC seems to have paid off. But where most independent or parallel or alternate films are getting stalled is in the exhibition. How do we take it to the next level, cross the next major hurdle?
I was going to come to that point last. I had requested a meeting with the Central Board of Film Certification and had a chance to meet their chairperson (Leela Samson). They invited me to meet with their members five days ago. They had an extensive meeting. Most of the members of the CBFC, as you may have noticed, are professionals. This is, I think, after a very long time that the board consists of so many faces who have something to contribute, or who have a profiling of their own. So they were most concerned about this 'new cinema'. About it not being able to pass the muster from the certification board because sometimes the films are not understood by those who are certifying it at the regional level. Also, they sometimes come under the 'adult' category – so they can't be shown more extensively on television. So the ministry is now in the process of facilitating a meeting between the certification board and a broadcaster's association (the Broadcast Content Complaint Council). Now if that comes about and they can make an arrangement then it will be a big step forward for mass viewing, because television is supposed to reach a hundred and forty million houses. So that is one thing that has come out from our discussion with the certification board.
But what of theatrical exhibition? A few decades ago there was a Forum For Better Cinema which agitated for smaller alternative theaters built throughout the country and funded by the government for the theatrical exhibition of alternative cinema – including films produced by the NFDC.
Yes, but I think that hadn't worked out at all. You might know that the government had already taken a call on winding up NFDC altogether. When I joined the ministry in 2009 Nina (Lath Gupta, Managing Director, NFDC) came to me and said: "Madam this is a farewell call". So then we really took some out of the box decisions and they are today doing so well. So I think the question of the government getting into (building) small theaters or subsidizing the showing of alternate cinema… I don't know we'll have to look at it. It can be a proposal and the ministry will have to study it and see how we can arrive at a sort of joint venture or participation of all the stakeholders. Because there is such little budgetary provision for this ministry. Because somehow the impression with those who distribute our resources always is that: "Filmmakers are rich people".
That's unfortunate because that's not the case. I've been to Pune (where the Film and Television Institute of India, or FTII, is) and to the Satyajit Ray (Film and Television) Institute in Kolkata and now we are going to upgrade those institutions by bringing an act in Parliament—it's almost in the last stages—to make them institutes of excellence. So that will be a great encouragement for people training there to make new cinema. But the thing is the market also has to be developed. I think maybe, if there are suggestions, in the next few months we can try and have some workshops around the country to sensitize people to this. And why don't we get the larger filmmakers, who make up to Rs 250 crores, to participate and ask them to help the younger people trying to make new cinema to move forward? It will have to be a joint effort with the industry because, much as some of us may want to do things our hands are tied because there are not enough provisions. But it's a good idea, let me talk to some of my colleagues and see how we can take this forward.
|
Keeping Up With The Indie Joneses
Article
September 2012

By Rishi Majumder
Rishi Majumder is Senior Editor at The Big Indian Picture.