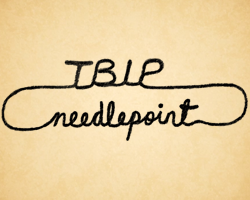 Introducing On Needlepoint– A series on Fashion and Films, because ever since they were introduced to each other by Glamour, they've maintained a deep and exciting friendship, collaborated fruitfully, gotten up to mischief and given us more than a couple of exquisitely dazzling moments in history.
When 65 year old Diane von Furstenberg kicks back on a bed and asks: "So what is it you want me to do?"– you fumble.
The iconic fashion designer has aged gracefully through her many lives. At 25 Von Furstenberg, a Belgian by birth, launched her signature line from New York by modelling for it in a cotton jersey shirt dress. The tagline read: "Feel like a woman, wear a dress!" Almost four decades later, she wears the lines on her face with the same élan. "I love my wrinkles," she had said in an interview last year. "I have always wanted them."
In Mumbai for a luxury conference, DVF has met us on the 22nd floor of Bandra's Taj Land's End. We tell her we are a new magazine, only beginning to gather content. She glances cursorily at a view of the sea, then raises two enquiring eyebrows and smiles: "I'm the first person you're doing this kind of an interview with? Then it will be a success." She nods. "Every venture that has begun with me has gone on to be a success."
Her life has been nothing if not cinematic. She entered fashion's hall of fame in 1974, when she introduced the wrap dress that became a symbol of women's liberation and was worn by millions. In a decade her very profitable business went bust. In 1997 she made a comeback by reintroducing the wrap to an entirely different generation of women, again to resounding success. In between the years and the wrinkles lie intimate details that would leave even a very imaginative screenplay writer gasping for breath: a marriage and lengthy divorce with Prince Egon of Furstenberg (a former principality, now in Germany); the decision to retain his family name that had become her brand; 29 diamonds, on her 29th birthday, gifted in a band-aid box by media mogul Barry Diller whom she is now married to; countless crazy nights at New York's Studio 54; displacing American President Henry Ford on the cover of Newsweek which called her "the most marketable woman since Coco Chanel"; a scorching affair in Bali with a Brazilian the press knew only by his first name: Paulo; life as a Paris intellectual with Italian Novelist Alan Elkann; a stint as publisher because she felt she was a "frustrated writer", and as contributing editor for Vanity Fair…
"I'm glad I didn't talk about myself," said DVF at the end of this interview. Perhaps it's just as well. The only thing that can do justice to the life of this woman who said at forty, "It's time to become a myth", is a biopic. While we wait for that, here is a Q and A about her brush with the movies.
Which movies have influenced you the most and why?
Oh, which movie influenced me the most, okay, All About Eve…and… (A) Clockwork Orange. There are so many movies, Stromboli, for example, all of (Roberto) Rossellini's movies in fact. But those two are special.
What is it about All About Eve and A Clockwork Orange?
Okay, All About Eve is because everybody has had that situation of somebody wanting to be you. I also love it for Bette Davis. I can see it over and over and over again. And (A) Clockwork Orange because I think it was the first movie with this modern situation. It is really unusual. It's violent, but then he (the protagonist) likes Beethoven…
Right, the contrast.
The contrast. I love that.
At a lunch that you threw for The Artist this January, you said Harvey Weinstein only asks you for help with holocaust movies or French movies. What did you mean by that?
Well, because I am French, I mean I am Belgian but I am a French-speaking person in New York and because my mother is a holocaust survivor. So whenever he makes a movie on the holocaust or in French, he calls me. Both the movies he called me for—(A) Beautiful Life and The Artist—won Oscars though.
In what way did you help him?
Nothing much, I just invite people and host a screening. Help him a little bit.
What are the most sweeping ways in which you feel design has influenced cinema?
Well I think that if we start from the beginning, the really big cinema came after the war when all these emigrants from Germany and from Europe came to Hollywood, and brought in incredible talent as screenwriters, directors, costume designers, technicians. I mean there were all these real intellectuals and some very talented people who created an enormous bang– made a big impact on the movies. There's nothing more dramatic and more extraordinary than those movies at the time. If you think about design in the movies, in costume especially, you think about (Luchino) Visconti and Death In Venice or Barry Lyndon. Those movies are so incredible visually, and their influence remains very important.
And what are the most sweeping ways in which you feel cinema has influenced design and fashion?
When you work on a collection, very very often you will go back to a movie for a reference. But it is a two-way process. I mean, I can be inspired by an (Pedro) Almodovar movie, and then Almodovar for his last movie – The Skin I Live In, for the scene in which one of the central characters who becomes a woman from a man, Almodovar went looking for a DVF dress because for him that is the symbol for becoming a woman.
When was the first time you saw a dress of yours in the movies? 
The first time I saw the wrap dress I think in the movies, was in Taxi Driver. Cybill Shepherd was wearing it.
Who are the costume designers whose work you really admire?
Oh, I know I'm going to be bad with names, but the movies of the (19)30s…Marlene Dietrich, the Visconti movies, the Piero Tosi movies…
Of late has there been any work in costume design that you found really exciting?
I think Bollywood movies are very inspiring, we don't get to see them much because we have nowhere to see them, but whenever you see little snatches of them they seem so inspiring because they're full of joie de vivre and colours and they're fun.
Is there any Indian film maker whose work you've liked?
Well, of course everybody loves Satyajit Ray and Pather Panchali. But overall, Indians love stories and they know how to tell stories. India is about contrasts and about everything coming together. That comes through in the movies and that is what I love.
What are the pros and cons of a designer being worn on the red carpet?
Red carpet is so annoying, people make such a big thing about it but it is nothing in life. I know it is a thing to get your clothes on the red carpet, but for me it's much more important to have actors and women of all types wear my clothes for life. People who choose them because they simply like them and because they bring them good luck too. They wear them when they meet the man of their life or when they go for their job interview. When they have memories linked with them.
Who are the actresses from now and the yesteryears who you would really like to dress up?
I think I've dressed just about everybody. I mean, I think everybody at some point has worn my clothes but again what I find interesting is when they wear them in the course of daily life. I thank someone like Madonna who is known to dress up in costumes when she is performing, but when she wants to be just herself, go for a book event or meet a head of state, she wears a DVF. Or Ingrid Betancourt, who was in the jungle for seven years and the first dress she bought when she was back was a DVF. Or Mrs. (Michelle) Obama, for her first Christmas card. That means something to me.
Your daughter, Tatiana, is a filmmaker. Your husband Barry, he headed Paramount studios, and then Fox and Universal. Have they influenced the way you see cinema in any way?
No. I love movies because I love a good story.  I love the visuals of cinema. The only thing that has influenced me are the movies I see.
What's your most vivid childhood memory of watching a movie?
I think the first movie I ever saw was Ivanhoe and then another movie I remember was Around The World In 80 Days. This was in Belgium when I was a little girl.
|
On Needlepoint: Diane von Furstenberg
Interview
October 2012

By Rishi Majumder
Rishi Majumder is Senior Editor at The Big Indian Picture.