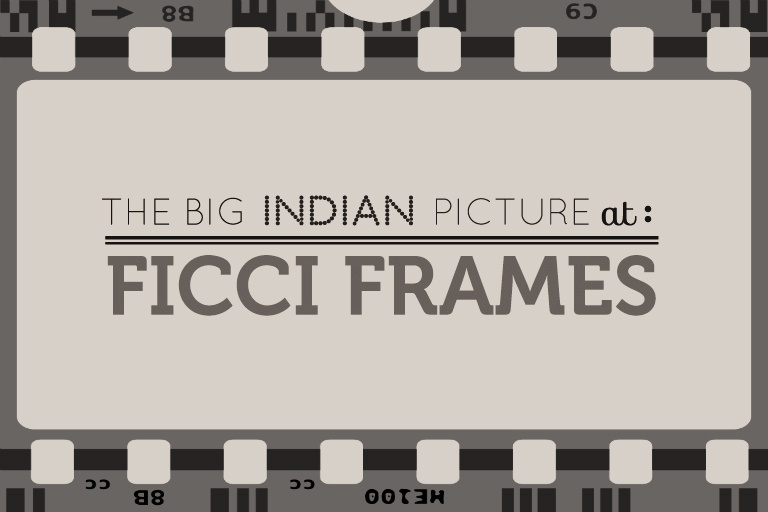 The 14th FICCI Frames, a three day annual media and entertainment conclave is on in Mumbai. FICCI Frames is hosted by the Federation of Indian Chambers of Commerce and Industry's (FICCI's) Entertainment Division.
The theme of this year's conclave is "A tryst with destiny: Engaging a billion consumers."
Day 3. March 14, 2013
(See Day 2 and Day 1 Below)
5:15 pm to 7:00 pm A valedictory address by Manish Tewari, Minister of Information and Broadcasting (I&B). A keynote address by Ronnie Screwvala, MD, Disney-UTV. And speeches by Uday Kumar Varma, Secretary I&B, and Uday Shankar (Chairman, FICCI-Media & Entertainment Committee). Also on the stage are Karan Johar, Filmmaker and actor Kamal Haasan, and actor Prosenjit Chatterjee. 
Uday Shankar delivers an opening speech where he highlights the role of the Government in the Entertainment and Media industry. Although Manish Tewari isn't able to attend the conference, I&B Secretary Uday Kumar Varma has been able to fly down from Delhi to represent the government at this last session at FICCI Frames, 2013.
Tewari's recorded address is played where he apologizes for not being there as the parliament is in session. He addresses the issues raised by Shankar in the inaugural speech. He says, "This industry has the potential of absorbing the creative intellect of our youth."  The government should ensure that the growth of this industry is greater than before. He acknowledges the film industry's role in contributing to India's soft power. "The Indian film industry has grown not because of the government but in spite of it," says Tewari. He assures a more expedient process for obtaining permissions for both intentional and domestic productions to do location shooting. He also acknowledges the crisis of talent in the media and entertainment industry and sees public-private partnerships as the way forward. He says that it is the private sector that should ensure adequate training in the technical aspects of film and broadcast. On the topic of freedom of speech and expression, Tewari says that his stand is that freedom of speech should include the freedom to offend but he adds that the Indian Constitution also imposes reasonable restrictions.
Ronnie Screwvala's Keynote address follows. He notes that the industry has had a 12% growth but also that this is still less than that of other "sunrise industries". One of the key subjects of discussion during the conference has been the digitization of TV, which Screwvala says will take us three to four years to monetize. He also says that 2012 was an interesting year for cinema, where good storytelling was seen, alongside big blockbusters. He says that our regional markets have grown significantly. However, he feels the industry lacks a unanimous voice. "What we need is a lot more innovation and disruptiveness," he says. About the Rs 1000 crore box office target, Screwvala says we have the potential to achieve this target, but we can't increase ticket prices to meet it. The challenge cinema faces is that it has to make us want to come out and watch it.
Uday Kumar Varma acknowledges the film industry's disappointment with the recent budget. "My ministry is with the film industry," he says. With regard to the completion of 100 years of cinema, Varma announces that a part of the National Museum of cinema is complete. He also says that 'National Film Heritage Mission' will be formally announced soon to ensure film preservation and restoration and "to make sure nothing is lost to posterity." He says that plans are also being made for a 'Film Shooting and Facilitation Board' to enable a single window for the multiple permissions needed for film shoots, and to make the process easier for domestic and international producers. He says that India can become a digital hub "in terms of production." He calls for the industry to align interests and efforts with the government in this regard.
Uday Shankar thanks the attendees, the delegates, the media, the organizing committee and his co-chair Karan Johar. He also thanks Bangladesh's Information Minister, Hasanul Haq Inu for attending the event. He reiterates the importance of evolving a suitable regulatory framework for the industry. In this regard he announces on behalf of FICCI, the 'Centre for Regulatory Excellence' for suggesting policy changes in any regulatory framework to the government. He says that while this Centre will focus on pushing for a regulatory framework for the media and entertainment sector, it will also be open to consult other sectors.
4:45 pm to 5:15 pm Valedictory Session. Filmmaker Karan Johar in conversation with actor Kajol. 
The actor is attending FICCI Frames for the first time. The conversation plays out like a live version of Johar's popular TV show, Koffee with Karan. They cover topics ranging from social media, her motherhood, film lineage, item numbers, brand endorsements to controversies. Kajol calls herself "controversy-free". On the current crop of actors she says: "Acting has a lot to do with the kind of films you are given." She believes that the actors have a long time to go before one can decide how good or bad they are. On how her motherhood has changed the roles she plays on screen: "There are some things that you cannot do. That is okay."
The actor fields several questions from the audience on her comeback, her plans for the future and her relationship with Yash Raj Films. A filmmaker in the audience grabs the opportunity to offer her a role: "I thought: No one fits the role better than Kajol."
3:45 pm to 5:00 pm "The Creative Impact of HD, 4K and Beyond: A masterclass by Tony Cacciarelli, Product Marketing Manager, AJA Systems."
Tony Cacciarelli begins his masterclass with a presentation on AJA Systems' Ki Pro Quad, and the HD and 4K formats. The presentation looks at the process of working in the 4K format  from shooting till editing the video. He says the move to HD led to improvements in compression technology.
The Ki Pro Quad can record video directly in a higher resolution. This allows for easier and quicker editing. The work flow is easier allowing for a single cable to carry raw data from the camera to the Ki Pro system. The same work flow applies to HD. "This means you can work in 4K in an affordable way, very fast," says Cacciarelli.
The presentation is followed by a demo of the Ki Pro Quad. The raw footage can go directly to editing without converting it into another format. The 4K resolution doesn't tax the system as much. Cacciarelli says that the 4K format is still a few years away from being widely employed in the US and the UK. They're looking at the format being available at home in 2015. Japan is looking to do it in the next year. India is maybe three to four years away, he says. But it is possible to anticipate it and prepare for it, it is possible for systems to benefit from 4K for other formats. Cacciarelli adds: "I don't like it when technology takes over the creative process." The Ki Pro system costs approximately $ 3396.
3:45 pm to 4:45 pm "Media and Entertainment: Unleashing the power of Social and Economic Change."
The panelists are Filmmakers Mahesh Bhatt and Goutam Ghose, Jonathan Taplin (Director of Annenberg Innovation Lab, University of South Carolina), Colin Maclay (Managing Director, Berkman Center for Internet & Society, Harvard University) and actor Kiran Joneja. Sandra de Castro Buffington, Director, 'Hollywood, Health & Society' (a program of the USC Annenberg Norman Lear Center that leverages the power of the entertainment industry to improve the health and well-being of individuals and communities worldwide), moderates the session.
Buffington shows clips from two TV series— Private Practice and Numb3rs. She cites these shows as examples of using the medium of television to successfully educate audiences on issues such as alcohol, drug abuse, breast cancer and organ donation. "These efforts create impact", she says. "Around 10 percent of the audience of Numb3rs became organ donors." She talks about her program 'Hollywood, Health and Society' at the University of South Carolina collaborating with Asian Center for Entertainment Education on a project called The Third Eye, to do the same with Bollywood and other entertainment avenues in India. Bhatt and Ghose express support for this endeavor. Bhatt says: "It is our duty to act and act we will." Joneja feels that it is necessary to use entertainment to bring in this awareness "without the audience feeling like they are being lectured."
Maclay says: "It is a challenge to the creative industry, to not just put the story out there but to see how do you tell the story in a way that there is robust digestion and engagement with the audience."
2:15 pm to 3:30 pm "Opportunities for creative collaboration between India and the UK— case studies and new developments."
The moderator is Mark Leaver (Consultant & Creative Industries Specialist, United Kingdom Trade and Investment- UKTI). Other panelists are Samantha Perahia (Senior Production Executive, British Film Commission), Sumedha Saraogi (Sr. Vice President Global Business Dev/Co-productions at DQ Entertainment), A. K. Madhavan (CEO, Crest Animation) and Merzin Tavaria, Chief Creative Director and Co-Founder, Prime Focus.
Madhavan says that the UK would be the best option for India when it came to co-productions for animation as the UK gives Indian companies a chance to co-create and co-own intellectual property. Also the UK government grants support to productions, unlike the US where there is no support from the government. Moreover there is a greater cultural connect between India and the UK.
Saraogi says that the UK has a store of classic stories. "There is a huge potential in intellectual property, sitting there, waiting to be rebooted," she says. She adds that India complements the UK in terms of bringing the right scale to co-productions.
Tavaria says that his experience in dealing with the UK has been great. Moreover the UK has a huge advertising and commercials community, which has demanded a lot of creative input and a lot of animation, which makes it a perfect business destination for Indian animation companies.
Perahia mentions that so far collaborations have mostly been limited to Indian film crews coming to shoot a portion of their movies, on location in London. The Indo-UK co-production treaty which is already in place hasn't been used a great deal. Madhavan asks Perahia about possibility of funding for co productions. She speaks about various funds that outside productions could avail of if they want to make films in U.K. There is funding from banks as well, but the majority of banks shied away from film funding when the financial crisis hit. The question of distribution is also put forward. Leaver talks about how the British population spends more time and money on mobiles than any other country in the world and that Indian animation companies could look at it as a possible platform. Tavaria cites Prime Focus's work with Youtube to get a mobile feed for IPL as an example.
They examine things that may pose challenges to Indo-British collaborations. Madhavan says: "You need deep pockets to create new Intellectual Property." Says Tavaria: "There needs to be a greater seriousness towards animation in the country. There needs to be more investment in animation in India." An audience member asks him if he would prefer to go to countries like Singapore and Malaysia as they give better incentives to animation rather than the UK. "My answer is an emphatic 'no'," says Tavaria. "The UK is where the heart of animation is because it's where the studios and clients are. These countries (like Singapore and Malaysia) haven't created instantly recognizable properties yet." Saraogi says the company (DQ Entertainment) is waiting to see what the effect of the new treaty is before they go ahead with their planned co-productions in animation.
2:15 pm to 3:30 pm "Unleashing the Power of Data."
The panelists are Louise Chater (Audience Research Consultant and former Head of Movie Market Research, Walt Disney Studios), Nick Burfitt (Global Director of RPD services, Kantar Media), Atul Phadnis (Founder and Chief Executive, What's-On-India), Anandshiv Paramatma (Senior Vice President Consumer Insights, Star India), Rajesh A Rao, (Partner, IBM Global Business Services) and Ashish Khanna (Executive Vice President and Managing Partner, Communications and High Tech Group at Accenture India). The discussion is moderated by LV Krishnan, (CEO, TAM Media Research).
Chater says that audience research and testing is over 35 years old but it is only in recent years that the studios have paid attention to this data and used it to tweak the films they are making. Today, from script-testing to exit polls after the film's release, there are six to seven tests done for each film. "Nothing goes out into the market that hasn't been tested," Chater says. Paramatma talks about how each medium has a different set of metrics and frequency for measuring the data generated: "Print is yearly, internet gives data every second and TV is weekly." Fusing this data can provide significant socio-economic trends and insight.
Phadnis says that the audience's search pattern on TV correlates with consumption patterns in a big way: "We get to know the 'intent to view' which indicates the direction of future consumption." Chater says: "That is ultimately the (kind of) measure you want." She feels that Hollywood is yet to crack this in their audience research. Nick Burfitt, says that UK's television service Sky has been using such data to modify the viewing behaviour of audiences. The panelists agree that the large sample sizes and data are key to understanding the complex consumption patterns of audiences and modifying content to suit their preferences.
12:30 pm to 1:30 pm "Single Window Clearance: Making India easier for Film makers."
The panelists are Colin Brown, Former British Film Commissioner, Graham Broadbent, producer of The Best Exotic Marigold Hotel, Uday Singh (MD, Motion Picture Distributor's Association, India—a subsidiary of the MPA— which represents the interests of the six big Hollywood studios in India), filmmaker Mukesh Bhatt (also President, Film & TV Producer Guild), Catherine McDonnell (Head, Business and Legal Affairs, Fox Studios Australia) and Colin Burrows (CEO Special Treats), who is moderating the session.
Bhatt suggests that tourism in india can be given a great boost through location filming. He cites the example of Bollywood and Switzerland. He also recommends a partnership between filmmakers and the government towards this end. Broadbent speaks about his experience while filming The Best Exotic Marigold Hotel. Although he didn't face any problems while getting initial shooting permissions, he was hampered by various government obstacles when it came to renewing shooting permissions after the permissions lapsed due to delays between pre-production and the shoots. This also had an effect on visas. The director was in India on a business visa. Casting was incomplete and yet the director was unable to leave the country because he didn't know whether he would get a visa to return. "There was no single place (or officer in the government) to go to have a conversation with," he says. However the actual production experience was very good. "Make it simple to come here, because we're going to spend millions of dollars here," Broadbent says.
McDonnell speaks about her work with Australia Film,  an organization that works to make Australia a production destination. She claims it is now known as the one place to go to if the filmmaker has a problem shooting elsewhere. She also says there is a need to have a presence in LA for any country to pitch themselves as a production location. And she talks about the cost of visas in India. "I spent 450 dollars for a business visa for one week," she says.
Burrows asks Bhatt about the government's interest in how India projects itself on the screen. Bhatt replies, "They call us cultural ambassadors, but I don't know what they mean about that. There's nothing done from state or government levels— just sweet talk, they haven't done anything." Brown takes out a report on the British film industry and begins to read findings from it. In 2010 the film industry was responsible for a one billion dollars worth of investment in one year. "Government officials can be impervious to the charm of cinema, but they can't be impervious to the net benefit to the economy. This is the big hammer you beat them over the head with," he says as he holds the report up for people to see.
Singh says they are working on getting business visas ready in 48 hours. "With that and post production facilities, next time he (Broadbent) can walk out of the country with a film (that's ready to be shown)," he says.
11:30 am to 12:30 pm "India— a celebrated award winning global VFX hub."
The panelists are Akhauri Sinha (Managing Director, The Moving Picture Company, Bangalore), Gaurav Gupta, CEO (FutureWorks Media Ltd and Merzin Tavaria), Chief Creative Director and Co-founder, Prime Focus. The discussion is moderated by Biren Ghose (Country Head, Technicolor). It was also to be attended by Keitan Yadav, (COO RedChillies.vfx), but he is not present.
The panelists discuss India's arrival on the global VFX stage. Sinha says that 10 out of 12 films in the 'billion dollar club' have VFX behind them: "They are the heroes of the films." Gupta adds: "In the global stage if there is any VFX film being made, I'm sure India has a part in it". Merzin Tavaria says: "VFX is now part of 'production', not just 'post' (production)." According to Gupta, this has happened only post 2007. But within the country itself, the use of VFX is just getting started. Tavaria: "India has to evolve into using VFX."
VFX is an industry that evolves every day and Sinha believes Indian VFX companies are moving forward from just doing back-end work on Hollywood films. "Shots are being finalized in companies in India now." Comparing the present scenario with what happened five years ago, Ghose says walking through the studios is like "walking in dreamland". "There are animals, mutants and superheroes."
But the space needs a lot more investment and Sinha illustrates exactly how much with this example: "One shot of Life of Pi took more space (digital storage space, which means more money) than an entire Harry Potter film". Tavaria, however, believes that India needs stories which allow filmmakers to use VFX creatively. Sinha agrees: "It (VFX) has to be thought of by the writers and directors in India." But he believes that things are moving in the right direction. "Ten years ago, there was no storyboarding in (Indian) films," he says.
11.45 am to 12.30 pm Skills in M&E (Media and Entertainment)— The Next Big Leap Towards Creating Greater Talent." 
The Panel has Teri Schwartz (Dean, UCLA School of Theatre, Film &Television, USA), Jonathan Taplin (Director, Annenberg Center for Innovation, University of Southern California School of Communications & Journalism). Colin Maclay (MD, Berkman Center for Internet & Society, Harvard University), Sanjay Gupta (COO, Star India Pvt. Ltd), D J Narain (Director, FTII) Meghna Ghai Puri (President, Whistling Woods International). The moderator is Sunit Tandon, Director General, IIMC.
Schwartz opens the panel by stating the need for a more inter-disciplinary media education. She calls digital movie making "a game changer" which has led to new ways of telling stories. She also says that sometimes the curriculum itself prevents the students from forming new inter-disciplinary partnerships. She says: "DIY creativity and entrepreneurship is at a high. Everyone is a media creator." However she says there is "no getting away from one critical fact: the story matters."
Taplin says the issue which Annenberg is concerned with is "how do we create a next generation of people who have taste and ideas." He sees Mumbai as being one of the "scenes"  for developing great content. Maclay, calls himself the only "non-film person" on the panel and says that media and entertainment industries have much to learn from the digital world. He warns against dismissing film people from the digital world as that is where much of the interesting content is being created presently.
Schwartz, Maclay and Taplin together speak about the importance of collaboration, community and innovation in the new media world. Gupta offers his perspective as an employer: the industry currently employs 15 lakh people but need 60 lakh more people to join the industry. "We need very high quality talent and in very high numbers," he says. He lists three main problems facing media employers: the Human Resources practices are informal, the industry is incestuous (hiring from within itself) and there is a need to excite people about joining the industry.
He says media companies must hire people outside of Mumbai. " Mumbai isn't a hub, it's a fort," Gupta says. Narain speaks of a major urban-rural divide and a serious lack of infrastructure. The media industry doesn't work in a bottom up direction. This is creating social tension. He also stresses the need for media literacy to be a part of school curriculum.
10:30 am to 11:30 am "Between Worlds: The International Indian Filmmaker."
Mira Nair is in conversation with Zoya Akhtar. Nair discusses the early years of her filmmaking career, the continuing legacy of Salaam Bombay!, where her sense of belonging come from with a life and career spread across 3 continents, Maisha, her film school in East Africa, the other projects that she is working on and her upcoming film The Reluctant Fundamentalist.
Akhtar who assisted Nair in Kama Sutra: A Tale of Love, talks about the best advice that she has received on filmmaking from her: "You don't need to lose your femininity to do this job" and "don't hook up with the actors." Nair talks about beginning her foray into the arts with the questions "Is it possible to change the world with art?" and "Is it possible to make art and still be sane?" She discusses the recurring theme of migration that runs through her films, and about "distance (for the subject) giving (her) clarity" in making these films. She also feels that perhaps "the duplicity is captured much better by film than literature" in dealing with this theme.
Nair also talks about how she gets her way in making the film she wants to make by spreading the financing of a film between two to three financiers: "So there is no one boss and I get final cut."
9:30 am A video address by India's Information and Broadcasting Minister Manish Tewari
The video address by I&B minister Manish Tewari was called off due to "technical difficulties".  The chairs for the session, Naina Lal Kidwai (Country head, HSBC India and FICCI President) and Uday Shankar (CEO, Star India and Chairman of FICCI's Media and Entertainment Committee), expressed embarrassment and apologized to the audience. The speech given by Tewari will be recorded and played later in the day.
Day 2. March 13, 2013 
(See Day 1 Below)
5:45 pm to 6:30 pm "100 years of Cinema and Beyond."
The panelists are filmmakers Anurag Kashyap, Zoya Akhtar, Dibakar Banerjee and Karan Johar. The discussion is being moderated by film critic Rajeev Masand.
The discussion covers various topics right from 100 crore films, how healthy India's film industry is, the sexuality of men and women on screen, as well as the responsibilities of cinema and its makers, the need for a diversity and quality of content, intelligent blockbusters and the scope for animation films in India.
Karan Johar says: "We as a fraternity didn't coin the term '100 crore film'". But he admits that everyone plays a part in the circus that ensues from this idea: "The brilliance and flaws of a film are not discussed." Dibakar Banerjee: "I am thankful to films like Rowdy Rathore. They give strength to studios to put in three to four crore in an LSD (Love Sex aur Dhokha) or a Gangs (of Wasseypur). Helps us cockroaches survive. I don't want that to change. Bless you Salman!" Kashyap agrees with him: "We survive because of those blockbusters."
Zoya Akhtar rejects the notion that cinema is the reason for increased crimes in society. "Cinema is the softest target," she says. "We're not the police." She also points to the under representation in cinema of subjects such as "disability, alternate sexuality." "We don't discuss bad filmmaking," she adds. Banerjee says that the content of a country's cinema is reflective of its system: "Our system is oppressive and our entertainment is designed to make us forget the oppression."
The filmmakers also talk about the short films they directed for Bombay Talkies, a film anthology project backed by Viacom 18 Motion Pictures in celebration of 100 years of Indian cinema. Kashyap calls Johar's film "the bravest of the lot."
4:45 pm to 5:45 pm "Creating Compelling Content: The Power of a Story."
The panelists are writer Jerry Pinto, filmmaker-writers Vijay Singh, Rajshree Ojha and Manish Gupta, and Kamal Jain, Group CFO-India, Eros International Media Ltd. The discussion is moderated by author Samit Basu.
A lively discussion ensues on writers in the industry and what place good stories have. Pinto professes love for Bollywood but hits out hard against stars ruining the space for stories within the industry: "Once you have started to perceive yourself as someone important, as a cultural icon, it is the death of the story. I don't think anyone is actually looking at the story." Singh agrees with him about the importance of writers and says: "There is a need for investment in writers, in time and money" Ojha says that there's change happening in the industry: "baby steps, but it is happening."
Jain cites Shirin Farhad Ki Nikal Padi, Ferrari Ki Sawaari, Vicky Donor and English Vinglish as examples of content driven cinema coming to the fore. He asks the panelists arguing the case for good stories: "Where are the good writers?" Gupta answers this with how difficult it is for a writer to have a viable career in the industry: "In India, writers are taken for granted. When the same person becomes a director, he is taken much more seriously." Citing his own shift from writing to making films, Gupta says: "I was paid Rs 5 lakhs as a writer for Sarkar but I directed three flop films and I was paid Rs 30 lakhs. Where is the sense in that?"
The panelists seem to agree that a way forward could be the script departments of companies like Viacom and Disney-UTV.
2:15 pm to 4:45 pm. "Engaging Diasporic Audiences." A masterclass with filmmaker Gurinder Chadha.
Gurinder Chadha preferred to go for a Q&A session with the audience directly. On challenges she faces as an international Indian origin director she says it was difficult to make a decent budget film (according to her this would be about $ 15 million plus) with Indian content without having a good role for an English actor in it, or without an English storyline.
Secondly, she says that films with lead female roles aren't deemed commercially successful."It is not an insurmountable challenge," she says. "But it is tedious and boring because you have to have to keep reinventing the wheel." She discovered that Bride and Prejudice was the number 1 sleepover film for girls in the US after being treated to an impromptu dance recital of Balle Balle from a business acquaintance's young god daughter.
She also speaks about the backlash against Aishwarya Rai: "People felt she was being over ambitious, trying to leave India behind and go global." Chadha believes she has changed race relations in Britain by making her community feel "mainstream" in Britain. A young Sikh man in the audience thanks her for making Bend It Like Beckham because it helped him convince his family about his own dreams, although it "lead to some other problems as the film was about a girl."
She says: "My whole purpose as a filmmaker is to show people who look like me and talk like me on the screen. Multi-cultural people in a world which is largely mono-lingual." She also speaks about her musical version of Bend it Like Beckham, which she calls "'A Fiddler on the Roof' for now."
3:15 pm to 4:45 pm "Planning and Making a 1000 crore blockbuster."
The panelists for this session are Greg Foster (Chairman and President at Filmed Entertainment, IMAX), Vijay Singh, (CEO, Fox Star Studios, India), Siddharth Roy Kapur (Managing Director, Studios, Disney-UTV), Ajay Bijli (Chairman and Managing Director, PVR Ltd) and Vikram Malhotra (COO, Viacom 18 Motion Pictures). Filmmaker Karan Johar (also Co-Chair of FICCI's Media and Entertainment Committee) is moderating the discussion.
Ekta Kapoor, Creative and Joint Managing Director, Balaji Telefilms, and filmmaker Ramesh Sippy (also Co-Chair, FICCI's M&E Committee) were to attend this session but they aren't present.
The session begins with a keynote by Foster on IMAX's increasing presence in India, on tying up with Yash Raj Films for three films: Dhoom 3, Paani and a third that is yet to be decided on. He emphasizes the importance of building relationships with filmmakers in Bollywood because they have been "the ambassadors of IMAX's success".
The panel members are unanimous in the feeling that hitting the Rs 1000 crore mark for an Indian film is not far off. Singh says that this target roughly translates into "Combining the domestic collection of Ek Tha Tiger with the international business of My Name is Khan." Malhotra reiterates something he had said at a FICCI Frames panel discussion yesterday: the need to focus on unique footfalls in theatres and improving the film viewing experience. Kapur talks about the country being "under-screened" as a big problem: "A state like UP, with 18 crore people has only 150 screens." Ajay Bijli feels that the high entertainment taxes along with the tough regulatory environment are key challenges to be met on the way to doing a business of Rs 1000 crores.
Karan Johar, in reply to a question from a writer-filmmaker in the audience, says that there is no formula to hitting that Rs 1000 crore or even Rs 100 crore mark. Films that have done legendary business in Indian film history have ranged from a revenge drama like Sholay to a family entertainer Hum Aapke Hain Kaun to the most recent 3 Idiots, "so perhaps what works is films with a universal theme that everyone connects with."
12:30 pm to 1:15 pm "The effective use of music in cinema." A masterclass by Seymour Stein, Vice President of Warner Bros. Records, on the effective use of music in cinema. 
Seymour Stein begins with talking about how the world music scene has evolved in the last few decades and how the popularity of Hollywood music is not very old. But his talk is soon interrupted by enthusiastic audience members asking for advice on "the independent music scene for composers in India", the western classical music scene in Hollywood, help for marketing music from India in Hollywood and a tutorial on scoring background in films. The session conversation seems a little awkward at first with only a handful of people in the audience, but the man who is said to have discovered Madonna is genial.
On the Indian music scene he says: "More than most places India has a formula for films that works for Bollywood. I met Shankar-Ehsaan-Loy. These guys are talented. There's lots more they can do… and still (continue to) do what they do for Bollywood". He is always on the look out for new music and says good music will always come out: "I'm going to go in the evening to look for the indie bands here." As he leaves the stage and is ambushed with more questions on film music, he says "I love films but I'm not in the film business. I'm in the music business."
11:30 am to 12:30 pm "Indian Studio Infrastructure: Are We Ready for the Next Century."
The panelists are Andy Weltman (EVP, Pinewood Studios Group), Venkatesh Roddam (CEO, Film & Media, Reliance Media Works), Vijay Singh (CEO, Fox Star, India), Vikram Malhotra (Chief Operating Officer, Viacom 18 Motion Pictures), and Colin Burrows (CEO, Special Treats Productions). They discuss issues facing studios and Film and TV production service providers in India. They talk about the need to spread awareness about this particular Indian service market throughout the world.
Roddam speaks on the current state of production services and infrastructure in India. "There are pockets of excellence emerging in the market here," he says. "But that isn't known globally." He says we are on par with foreign safety standards but studio sizes are relatively smaller, and facilities are fewer, which forces bigger movies to shoot on location.
They also discuss filming on location and the need for state governments to be proactive in providing incentives to filmmakers in order to attract Hollywood to shoot here. Or as Weltman puts it: "Location filming is like online dating, you have to match the production with the incentive."
He adds: "Nowadays no films are made in LA– Only TV is being shot. Very few films on the lot of Fox, Disney. (This is) because they're going around the world to film." The panelists also speak of the need to diversify in the kind of services provided and of the need to provide a skilled labour force to support these services. Singh says, "This (industry) is where IT industry was at the time of Y2K. People are only beginning to look at entertainment as a mainstream industry now."
11:30 am to 12:30 pm "Let me tell you a story… What kids want and how to engage them." A masterclass by Glenn Bartlett, Creative Director at Turner International Asia Pacific.
The masterclass covers animation, the art of storytelling, and how brands use them to engage their audience and consumers. Glenn Bartlett discusses how to convey a specific story in a few minutes, or just a few seconds, with the idea of not just entertaining the audience and making them laugh "but to gain the interest of the audience and get them to go out and do something". He talks about working for the Cartoon Network and his love for the character Wile. E. Coyote. "I hated the damn Road Runner (Coyote's adversary)," he says. He shows clips from the Road Runner Show.
Bartlett also talks about the how brands build or reinvent themselves. "Today, brands engage on all platforms". He considers the question of "how to put the consumer in the middle of all that you want to say". He shows clips from TNT's "Your Daily Dose of Drama" and Coca Cola's Skyfall advertisements. He also says that storytelling is changing today, with crowdsourcing and Youtube enabling anyone to be a storyteller.
10:30 am to 11:30 am "Sound and picture— together telling the story." A masterclass by Ioan Allen, Senior Vice President, Dolby Laboratories .
Ioan Allen delivers a talk that charts the history of Dolby with respect to the changing nature of the image— from traditional film to the digital revoultion. He predicts that the film format will be completely gone from the US, and that all theatres will be digital, by late 2013.
He is then joined by filmmaker Rohan Sippy for a discussion on how technology affects the style of filmmaking. They talk about the changing nature of the Indian audience— especially whether the audience is actually younger today than before.
They also discuss the future of 3D in India. Sippy cites the example of ABCD which was in 3D, and had no stars but which was still very popular. Yet he can only think of a few 3D films which have been successful in the country. A younger children's audience may be more open to it, he feels. Also, he feels that films need to be made specifically for the format. They discuss how the premium pricing of 3D has made it difficult to sustain the format in the U.S.
Allen says he doesn't necessarily want to see an upsurge of Dolby Atmos (a surround sound technology that was introduced by Dolby Laboratories last year) in theatres in the US. He'd prefer that they had higher collections via more seat occupancy (Dolby Atmos tickets are more expensive).
10:30 am to 11:30 am "The Gag Order: Are we stifling creative expression?"
The Panelists are Baijayant 'Jay' Panda (Minister of Parliament, Lok Sabha), Actor and filmmaker Kamal Haasan, Actor Rahul Bose, Director Mahesh Bhatt. The panel is being moderated by Shoma Chaudhury (Managing Editor, Tehelka).This plays out as a freewheeling discussion around the roles of artists, society and the Indian government in ensuring artistic freedom and the freedom of speech and expression— especially in India's current landscape of timidity and fear. Also, the role of the burgeoning middle class in shaping protests for and against this freedom. The panelists agree that the middle class is selective about who it stands up for. Haasan says: "Sensibility can come from anywhere. It is not the bastion of the middle class". Panda: "It is the job of leaders to resist lynch mobs which they have been pandering to for decades." Panda also speaks of the need to understand where this lynch mob mentality stems from. Bose feels that there is a need for artists to organize themselves and come together to be "the vanguard for any movement". Bhatt disagrees. "Filmmakers are not underground guerrillas," he says. Chaudhury winds up the discussion by saying there's a need to narrow the definition of what restriction of freedom can stand for, and that we need to find our own levels of cultural acceptability as a mature society.
Day 1. March 12, 2013 
10 am to 11:30 am The Inaugural Session
Inaugural addresses are by Naina Lal Kidwai (Country head, HSBC India and FICCI President) and Uday Shankar (CEO, Star India and Chairman of FICCI's Media and Entertainment Committee). "Our endeavor is to develop and engage with a varied consumer base," says Kidwai. "The FICCI FRAMES report this year has outlined tremendous growth for the sector with one of the key drivers for change being digitization." The report, which has been prepared by FICCI and KPMG, is released. It predicts that the Media and Entertainment (M&E) industry will grow 11.8 % to Rs 917 billion this year, from Rs 820 billion in 2012, helped by digitization, growing regional media and the upcoming elections. Also, that the M&E industry will touch Rs 1600 billion in 5 years.
Shankar notes that the $15 billion industry employs millions. "The lens often used to look at this industry is largely one of glamour and propaganda and the biggest debate is on how to control and contain it," he says. "As a result, the growth of M&E has not been supported by policy and regulatory initiatives."
Also at the inauguration, are filmmakers Karan Johar and Ramesh Sippy, India's Minister of State for External Affairs Preneet Kaur, Dr. Soon Tae Park (Deputy Minister, Ministry of Culture, Sports and Tourism, Republic of Korea), Andy Bird (Chairman, Walt Disney International) and actor Kareena Kapoor. Bird says Disney is creating an "Indian Walt Disney channel, not a Walt Disney channel in India." Subhash Chandra, Chairman Zee Ltd., is felicitated by Johar for two decades of contribution to the broadcast industry. His son Punit Goenka accepts the honour on his behalf.
2:00 pm to 3:15 pm "Engaging a Billion Consumers in the media and entertainment industry."
The panel comprises Uday Shankar, CEO Star India Pvt. Ltd., Ravi Dhariwal (CEO publishing Bennett Coleman), Punit Goenka (MD & CEO, ZEE Entertainment), Siddharth Roy Kapur, MD (Studios) Disney UTV, Sudhanshu Vats (Group CEO Viacom 18 Media), Rahul Johri (Senior VP & GM, South Asia-Discovery Networks Asia Pacific), Shailesh Rao (VP, International Operations, Twitter Inc.). Shankar, who is moderating the panel, says in jest: "If anything has to happen at this industry it has to be through this panel, the bad news is that if we fail there is no hope for this industry."
Vats sees a need to segment the audience and then target them. He sees two trends emerge as urbanization grows— a more "massy" content and a more "me-centred" niche content. He points to the proliferation of multiple screen theatres and predicts their continued prominence in the coming years. Kapur says there is a huge gap in infrastructure that needs to be bridged, in terms of too many viewers for too few screens available to show the content. Both Rao and Kapur speak in favour of new platforms, especially on the internet, as a means of distributing more content. The panelists agree that a problem faced by the entertainment industry as a whole is regulations in pricing which makes it necessary for them to resort to economies of scale to ensure profitability and cater to the lowest common denominator in terms of content.
3:15 pm to 4:45 pm "Gatecrashers who made the party: The Out of Towners in Bollywood."
The panel comprises filmmakers Karan Johar, Sujoy Ghosh, Kabir Khan and Gauri Shinde, and actor Amit Sadh. Actor Nawazuddin Siddiqui and director Anurag Basu were supposed to be on the panel too, but they aren't present. The panelists discuss how each of them broke into the film industry and whether it is easier for newcomers now than before.
Khan has an interesting story about when he was at FICCI Frames some years ago with his script. He says what he had found difficult then was the "lingo" of the place. He met a producer here with whom he set up a meeting later. After giving him a half-hour narration for the film, he was asked by the producer for his proposal. "Isn't that what I just said for the last 30 minutes?" Khan had said to him. The producer then asked him for the names of the stars he would use, and a territory-wise revenue break-up, and the estimated box-office and satellite revenue numbers. "I thought: But isn't that your job?" Khan says. "I asked him: When do you listen to scripts?" The producer said: "Monday to Friday, proposals. Saturday is for scripts." Then he said to Khan: "There are two types of films- pre-Friday films and post-Friday films. Pre-Friday films are those which are sold before the film is released and we have already recovered our revenue. Post-Friday films are sold after the film's release. Yours is a post-Friday film and we don't make those."
A filmmaking student in the audience asks how it is possible to bridge the gap between content creators like directors and those launching such talent (producers).
Khan acknowledges the gap and says that he remains open to meeting people. Sadh suggests that it is here, perhaps, that a credible institution can play a strong role. More film institutes like the Film and Television Institute of India that 'stamp' one's talent.
3:15 pm to 4:45 pm "Ways to build strategic partnerships between the creative industries of Korea and India."
The panel is led by Biren Ghose (Country head, Technicolor India) and has Mr. Hangon Kim (Vice President, KOCCA or Korea Creative Content Agency), Mr. Jonathan Hyong-Joon Kim (Executive Advisor, CJ E&M), Mr. Kum-Pyoung Kim (Director, Korean Cultural Centre, India), Mr. Charles Lim (Deputy Director, Korea Tourism Organization), Mr. Harry Yoon (Vice President, SAMG Animation), Mr. Vijay Shankar (MD, Karnataka Biotechnology and Information Technology Services, or KBITS).
Vijay Shankar says the KBITS has "a lot of plans for this year that include starting digital art centres, PPP projects and joint ventures with foreign collaborators. We are also very keen to ensure that there is a permanent linkage with Korea." The Korean government currently provides Indian movies shot there a 30% rebate on the cost of shooting the film in Korea. Kim says: "A solid infrastructure for content expansion has helped us achieve a stable environment for foreign investment." He adds: "India as a content market is rapidly growing, with an average scale of 14.3%, and the gap between Indian and Korean content markets (the latter is growing at an average of 4.2%) is getting smaller."
3:15 pm to 4:45 pm "The Second Phase of TV Digitization."
The panelists are Parameswaran N. (Principal Advisor, TRAI), Sameer Manchanda (Chairman & Managing Director, DEN), Sunil Lulla (MD & CEO Times Television Network), Manjit Singh (CEO Multi Screen Media), Raman Kalra (Partner & Industry Leader, Media & Entertainment Practice, IBM Global Business Services), Tarun Katial (CEO, Reliance Broadcast), Anuj Gandhi (Group CEO, India Cast). They discuss the best way to execute the second phase of TV digitization that will span 38 cities by March 31, 2013.
They speak about effective business models that would make this phase a success for all stakeholders concerned. "We need to ensure from day one that all systems are working and there is a multi-prong approach," says Parameswaran. "Moreover, there is no regulation in the pricing of HD, 3D channels and broadcasters can charge as much as they want for these channels."
Says Kalra: "It is not enough to go digital. It is important for the industry to keep a parallel strategy for incremental money upsell. Consumers are happy to pay the extra money but there should be micro-segmentation of consumers and content should be developed to cater to each set of consumers."
4:45 pm to 5:45 pm "The SAARC Minister's Panel- Forging Enduring Ties."
The panel has Dr. Keheliya Rambukwella, Minister of Mass Media and Information, Sri Lanka, Raj Kishor Yadav, Minister, Information and Communication, Nepal, Din Mohammad Mobariz Rashidi, Deputy Minister for Information and Culture, Afghanistan, Vikramjit Singh Sahani, President, Chambers of Commerce & Industry of SAARC, filmmaker Mukesh Bhatt and Film Federation of India President Bijay Khemka.
"It is the right time to work together to take the SAARC film industry into the global space," says Yadav. Sahani suggests that "Media and entertainment can connect the South Asian countries in a way in which even the governments of these countries cannot." Bhatt adds: "When the Berlin Wall can come down, why can't boundaries between SAARC nations be brought down.'' Khemka rues that cross border issues with regard to films, faced by West Bengal and Bangladesh in the East, and Tamil Nadu and Sri Lanka in the South, are entangled in government red tape.
4:45 pm to 5:45 pm "Film Distribution & Exhibition: Challenges and the Way Forward."
The panelists are Vikram Malhotra (COO, Viacom 18 Motion Pictures), film distributor Anil Thadani, Rajesh Mishra (CEO, UFO Moviez India Ltd.), Senthil Kumar (Founder & CEO, Real Image Media Technologies), and the moderator Ashish Saksena (COO, Reliance BIG Cinemas).
Mishra talks about how digitization has changed the film distribution business, as 500 to 600 prints play across 2500 to 3000 screens today: "The cost of distribution has become one-fifth of what it used to be, but the reach has gone up by five times." "In the next one year," he says. "It will be the end of print era."
Yet, the number of screens remains at 9000 (of which 7000 are digitized). Kumar compares this with countries like the US where a population of 320 million has 38000 screens. In India 1.2 billion people have only 9000 screens . "We have one-sixteenth the screen density of the US," he says. "UK has 8 times more (screen density) with 60 million people and 3000 screens. China added 5000 screens last year, with one chain alone adding 1000 screens." He also says that half the screens are located in four of the Southern states which means that in some parts of India the screen density is pretty abysmal. The panelists also discuss how digitization has helped combat piracy and how the lack of transparent data with respect to a film's box office figures is a huge issue. "We release 18 to19 films a year but we still don't know what the optimal release size is," says Malhotra. Instead, he feels, "a film is defined by its release", instead of the other way round.
There is a discussion on raising ticket prices to bring them on par with those in most other South Asian countries. Thadani points out this might be a mistake. High ticket prices would limit the repetition of film goers and increase piracy of films. He quotes the example of Dilwale Dulhania Le Jayenge: " It had 30 prints in Bombay with tickets priced at Rs 30 and Rs 50. The revenue was collected along the same range as now. It adds to the longevity of the film."
5:45 pm to 6:30 pm "Trends in Children's Entertainment: What are our children watching?"
The panel comprises Pradeep Hejmadi (Senior VP, TAM), Ashish Karnad (Group Business Director, Media and Panel Group, IMRB International), Krishna Desai (Director Content, South Asia, Turner International India Pvt. Ltd.), Harpreet S. Tibb (Marketing Director, India & South Asia, Kellogg), Vijay Subramaniam (Executive Director, Kids Network, Disney-UTV) and the moderator Devendra Deshpande (Director-inventions, Mindshare). The panel speaks on the various aspects of the children's entertainment industry and why there were not as many huge successes for animation in India as there have been in other countries. Also, the panelists discuss merchandising and licensing and why sometimes the merchandise for a children's TV show does well when the show itself doesn't, and vice-versa.
Says Subramaniam of Disney-UTV: "Everything we do we put through a simple straightforward filter which is: Is this compelling enough for them (children) to consume this? Once they start consuming this, will they be able to engage with this? Once they begin engaging with it, do they like the experience? Now that they like the experience does it create a memory?" He also emphasizes the need for balancing local flavor with a universal appeal, through, say, using "family content", or simply by effective dubbing.
|
FICCI Frames 2013 Live Blog
Specials (Live Blog)
March 2013