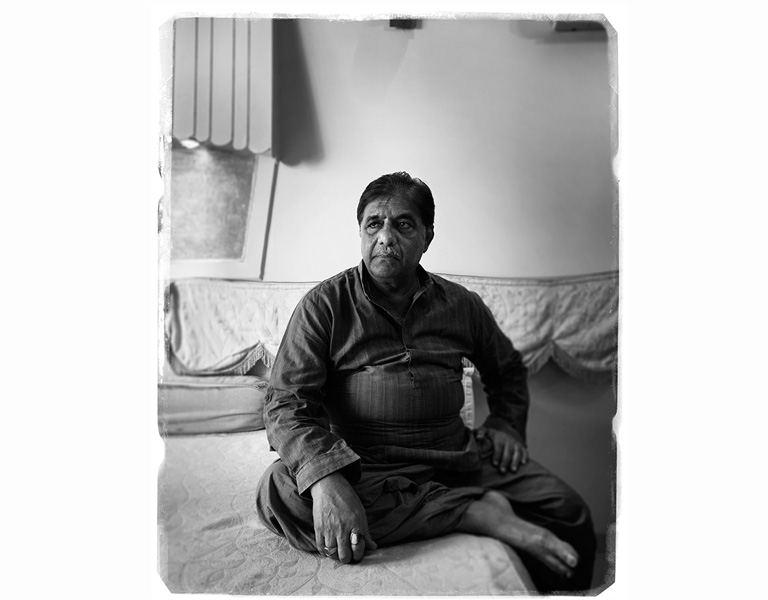 Aanjjan Srivastav, 65, became a household name after he played Srinivas Wagle in the popular Doordarshan sitcom Wagle Ki Duniya, from 1988 to 1990. The show, based on characters created by noted cartoonist, R. K. Laxman and inspired from his 'common man' was rebooted in 1999 as Wagle Ki Nayi Duniya and once again, last year, as Detective Wagle. Srivastav also acted in several other TV shows, among them Tamas and Nukkad. In mainstream Bollywood, he has acted in movies like Hrishikesh Mukherjee's classic comedy Gol Maal (1979); Mr. India (1987), Kabhi Haan Kabhi Naa(1994) and Chak De! India (2007). He also acted in Mira Nair's Salaam Bombay! (1988) and Mississippi Masala (1991).
However Srivastav is committed, till this day, to his first love—theatre. He is a longstanding member of IPTA (the Indian People's Theatre Association) of which he is currently the Vice-President. Dedicated to his craft, Srivastav holds strong views on what really constitutes an actor. We are in his living room. His youngest daughter, a college student, darts in and out, bringing us refreshments, or simply listening in.
You had studied law and you were working in a bank before you got into acting full time. What was your journey into acting like?
I had never really thought about acting as a career. In my childhood I had started writing, imagining things… I visualized things and imagined, say, Dilip Kumar—in those days Dilip saab's films were running—if Dilip saab was to play Yudishthir's role (in the Mahabharata), then how would he do it? I'd come up with my own version of Yudishthir. In this way I would write a script.
The music composer Salil Chowdhury was my mama's (uncle's) friend and he used to come every Saturday in the evening with his wife and they used to talk about the IPTA theatre movement. We used to wonder what they were talking about.  When we'd try to come close, to listen, the grownups would tell us to get out. Still, these ideas entered my subconscious.
But my dad wanted me to focus on my studies. I was not very interested in Maths, but he wanted me to do Maths. I managed to pass, but it was torture for me. During my higher secondary exams I met a teacher with the NCC (National Cadet Corps) who was making a film with Balraj Sahni in Calcutta, where I have been born and brought up.
I was in class 11 when I met Balrajji at the Technician's Studio. It was then that I really understood what an 'actor' is like. I didn't understand what being an actor entails, much, before that. In childhood I would sit with my mother, listening to the actor Shombhu Mitra's radio plays and, while listening, I think, a culture of appreciating good acting developed within me. I don't know exactly when or how that happened, but it did. I was very impressed by how he modulated his voice, which is especially important on the radio because people can't see you.
So, now, in class 11, I decided to begin by doing some radio plays and began practising for this. Then I gave an audition and got selected. My voice was better then. It was softer, a more 'romantic' voice. I did a radio play called Lapata. Shombhu babu's wife Tripti Mitra and a theatre director, Krishna Kumar, were performing in it with me. They advised me to do theatre and I said I would, but my dad would not allow me to go on stage. So I became very cynical. Then my mother said, 'For now, do whatever he says. Get a job at a bank. After that do whatever you want to do.'
Still, I was very inspired in those days by actors like Motilal and Balraj Sahni. And then I read about them. Then when I saw Balraji's background… He was an actor from theatre as well as a social worker. Balraj Sahni was one of the few actors whose films my father allowed the family to see.
Which actors and films did you watch growing up?
We got 'licence' to see Balraj Sahni, but we couldn't see Shammi Kapoor because my father thought of him as a 'hooligan'. Rajendra Kumar too we couldn't see. Dilip Kumar— yes. And I saw Om Prakashji, and I understood from him what a great character actor was and his characters remain in my mind till date. As a result of these influences, even when I began acting, I never thought about whether I was playing a hero or another character. I never thought about doing a lead role or singing songs. Instead, I thought: If I am that character, then how will I feel? There was always a wish to do something new with acting.
And that's why I felt that theatre was a place where I should 'make myself'. I wanted to be one of the best actors on stage in Calcutta. Whatever I am today, is because of that background in Bengali theatre and then Hindi theatre. For 10 to 12 years in Calcutta I was doing plays. After that I came to Bombay. I had already done one film because I was already playing lead roles in leading theatre units— with Sangeet Kala Mandir Alakar, Anamika Kala Sangam… So naturally those who wanted a Hindi speaking actor, especially the Bengali directors, quickly chose me. Chamelee Memsaab was one such film, which had Mithun (Chakraborty) and Tom Alter. But I was not really mad after cinema, I was keen to follow after what Balrajji did instead. I had thought that when I went to Bombay I would join IPTA. And that's what I did. From then till today I'm in IPTA. Since 1978.
You are Vice President at IPTA today. How did your association with it begin exactly, and what has it given you in all these years?
I'm also the treasurer for IPTA Mumbai. In 1968, after I got a job at Allahabad Bank, I was free to do anything. But since I wanted to go to Bombay, I needed to have a reason to be here, in case I didn't get a job at the bank branch here. So I thought that I'd try and get a job in the bank but also study law— and that would be another reason for my being in Bombay. But the job worked out. So then, in the morning I would study law, in the afternoons I did my job, and then I did theatre in the evening. I went on to do theatre for a record 46 years— despite my father's great distaste for it, I never left it.
I was lucky to get into IPTA and to learn there from theatre director and actor R. M. Singh— he would give us new entrants many lectures on acting. He mentored many important directors like M.S Sathyu. The IPTA inter collegiate (competition) used to have a R. M. Singh Trophy, for Best Direction. And he truly was one of the best directors, and a great coach. I remember being scared of him.
R. M. Singh opened the doors of IPTA for me and began giving us some work. He used to teach us how to act realistically and about the things an actor needs to pay attention to, like characterization. An actor should know not just acting, but lots of things— he should read, write… This isn't nautanki (folk theatre). It's a very serious job. You are giving something to society and you should be very serious about your job, about what you're delivering, how you are delivering it, what impression it makes on the audience. That's what the theatre is. You need to engage the audience. Acting isn't only about delivering lines. It's a kind of discipline.
Singh and M. S. Sathyu got me a part in a play called Bakri. It is political satire by Sarveshwar Dayal Saxena and M. S Sathyu turned it into a play. I played Mrs. (Indira) Gandhi in it. It was a super hit at that time.
Sathyu was the head of Bombay IPTA at the time and he was President of IPTA for all of India and he headed the 'acting branch' of IPTA as well. It was because of him that I went to Bombay initially. There were many people in IPTA, who aren't well known. Another person who used to inspire me was A. K. Hangal. And also Balraj Sahni, naturally— my guru.
Your father, who was against you becoming an actor, finally changed his mind. Why?
He allowed my theatre after my uncle said, 'Arrey baap re, Dharani Ghosh has praised Aanjjan! He has never praised anyone in theatre.' Dharani Ghosh was a very tough critic, a very important journalist, in Calcutta. He used to write in The Statesman. Every group was so scared of him that they would only call Dharani after four or five shows. He used to trash plays and even very senior actors. He was very learned about theatre. He had said that Aanjjan and Suresh Sharma could do well. Then my dad said, 'Ok, do theatre, but alongside your job.' But after Wagle… he wrote to me here in Mumbai saying, 'Your character should be your main goal and success should only be your stepping stone.' It took me sometime to understand what he wrote. I understand it now.
Did you ever think of acting full time? When did you finally decide to quit your job?
I wasn't able to make it a career for a while. When I started out there wasn't any institute as such. NSD (the National School of Drama ) and FTII (the Film and Television Institute of India) had just begun. When I asked Dad about joining FTII he said, 'We cannot afford it. Go work and whatever you're doing, in terms of acting, already, keep doing that. I cannot afford to send you to FTII.'  So I worked. I kept gaining experience in theatre and film, slowly.
As a result, I was busy with my work and theatre and whenever a shoot was convenient I did it, but whenever it wasn't— I didn't. So I didn't look at how I would make a career out of acting. My job was carrying on fine. My house was running. Money was not a big criteria to me, it was not really necessary beyond a point. It was only necessary that I didn't ask my dad for money. As time passed, however, I realized that I needed to do better roles, charge more, because only then would people see my value.
Finally, at one point, I felt, I needed to leave the bank job. When I left, the bank people asked me not to leave. Even the chairman said to stay, though finally he said, 'The one thing I ask is that, when you go for an interview for your profession, please mention Allahabad Bank.'
See, unlike Paresh (Rawal) or Anupam (Kher), who were doing films full time, I was into banking full time. After that I did theatre and after that film. But when I did Wagle, I became Wagle to everyone.
Also you had worked with Mr. Hrishikesh Mukherjee in Gol Maal, which was one of your first Hindi film roles. How did you get the role? What was he like, to work with?
Rishida was the first man whom I knew in Mumbai. Pallavi Mehta, who's a Gujarati actress, and her husband J. K. Mehta, who was a director, were both with Miyan (theatre) group, in Calcutta, while I was in Adhakaar. When I came to Bombay, Pallavi said, 'When you go there, write a letter to Rishida.'
When I met Rishida, both his films Alaap and Chupke Chupke had flopped. Before this, Rishida's films hadn't flopped as such, so he was disheartened, and he started making Gol Maal. He did it to continue supporting his staff. But I didn't understand that the style of filmmaking was changing.  While Gol Maal was happening, I went to Rishida's house. I hadn't got a job yet. I remember the first thing he had asked me was: 'Have you eaten?' I said, 'No.' 'Give him some food,' he had said.
This way Rishida gave me Gol Maal, then Bemisal, then Rang Birangi. He gave me work in Rang Birangi and paid me but that scene is cut so it was like a guest appearance ultimately. The scene had an actor being filmed during a shoot, when the police catch him. He told Raj Babbar to do the same role instead as at that time I wasn't well known and he realized he needed an actor who everyone knew for the role.
But we kept seeing each other over the years. When I got married, one of the first places I went to was to Rishida's house, with my wife. In his last years when he was in Lilavati (Hospital) I went to visit him.
Your role of Wagle had made you a household name. How did that come about?
I got the role because I had worked with Kundan Shah and Kundan Shah himself was pitching something to R. K Laxman. Doordarshan requested Laxman to do an adaptation of his cartoon (The Common Man). They said he could shoot the cartoon that's in the book or animate it. But he didn't want to do that. After two and a half years, he said, 'On the basis of my cartoons, I will create some stories.' He narrated some stories to them. Then Durga Khote produced these via her production house, Durga Khote Productions, which was one of the first ad production houses in India. Durga Khote's daughter in law, Christina Khote, was Laxman's friend, so she said, 'Chalo, we'll make it.' Then he said, 'Show me who are the best film directors?' So that's how he got Kundan Shah and Ravi Ojha. Laxman saw all the actors himself too. He called everyone and he would react outright to them.
Kundan had asked me to audition. I said to him, 'Arre yaar, why do I need to give an exam?' He said, 'No, I myself am giving an exam, my friend. You are my test. Read for me. It's a big cartoon, and so what if it's a cartoon? They don't want to do just a cartoon.' So I read.
After one month, it was decided to let me do one episode. It was first called 'Laxman's World' not Wagle's World. So Mrs. Khote and Laxman sat at her residence. They took out the Times of India and started comparing me to the character. In the evening they were discussing it and Kundan went there and they called Ajay Kagti, for the writing. They made the first episode. After that everybody appreciated me— but not Laxman. He said, 'No, he's up to 90%, but he's not 100%.' He was quite a critic and he had conceived an idea of Wagle that was exceptional. He had thought of 6 episodes to begin with and 13 episodes later. The impression was so strong. I just entered into character and played the role in a realistic way, which he liked. Humour doesn't require caricature. If you portray real life then humour emerges from situations. Life is like a taunt. There is humour in everything. So, after a few episodes, Laxman said, 'Aanjjan is the barometer of this serial but Kundan needs to change.' He always balanced the serial in his own way. Kundan also said he's learned lot of things from Mr. Laxman.
At the government awards created for the TV Industry (the DD Awards), in the first year of Wagle…, we won it for Best Actor and we were nominated for Best Comedy. In the latter years, we kept getting it for Best Comedy only. We were angry. 'Why do they only give us an award for comedy?' I asked Laxman, 'Am I just a comedian?' He said, 'No you are very good actor. Go and say what you want when your time comes to speak.'  So I went up on stage and said, 'An actor is a humourist, a tragedian and a comedian. Why have I only been categorised in comedy? I'm an actor, I portray a character called Wagle who is a complete character. Humour came out of the writings and the situations. For the first time, I feel convinced, inspite of the three judges sitting here, that a comedian is a greater actor than a normal actor.' The judges were annoyed with me.
Do you feel character actors get due recognition for their work today?
There was a time when character actors were respected. Especially when television came, the character actors were the most sought after. People in the film industry would look down on TV in those days. But some actors like Satish Shah and Shafi Inamdar would be cast in some cinema, even in cameos, because the directors felt that they had a greater draw and recognizability than even some film stars.
But nowadays… I was talking to a big actor, at a Lions Club meeting, and he said, 'See we have been in this line for 30-35 years. But today people become stars overnight. After some days we see that star actor make a guest appearance in serials. And after some days, consequently, this has a positive influence on their cinema too (in the film's earnings).' Television does that. And TV also pays them huge amounts. And, smaller character actors, who are in television, they give them trouble instead. Those character actors who give you a result, because of whom serials have been running well for over a year, are not taken care of. But then who is the loser? That's why you don't find good actors nowadays for TV. The creativity suffers.
|
'The rest is history.'
Special
December 2013

By Alyssa Lobo
Alyssa Lobo is Junior Correspondent at The Big Indian Picture.

By Nishant Shukla
Nishant Shukla is a mumbai based visual artist. He pursued a master's degree in Photography at the University of West London. His personal work has been exhibited at Fresh Faced and Wild Eyed, 2009 at The Photographers' Gallery London, Photomonth 2010, Watermans Gallery and the PM Gallery in London. He has also showed his work at the United Art Fair in New Delhi. Nishant currently balances his time between photographic commissions and video work.