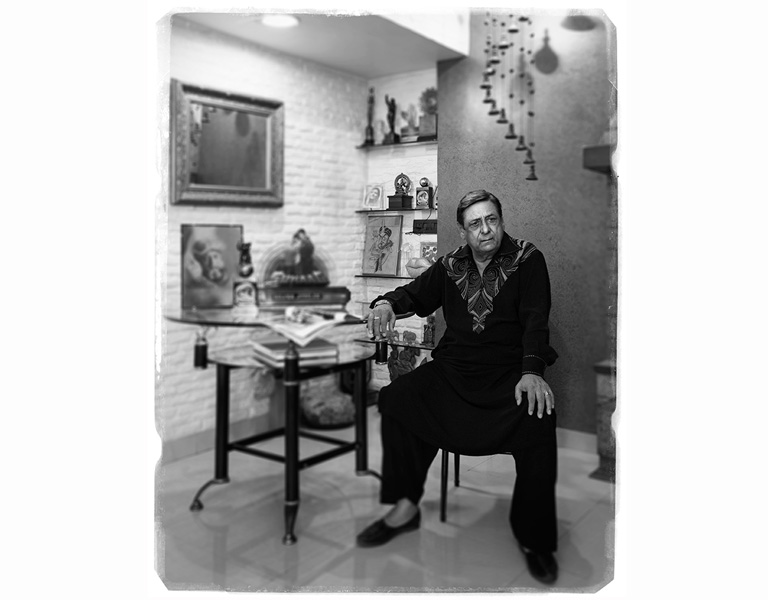 Gufi Paintal, 70, is best known as the scheming Shakuni from B.R. Chopra's lavish adaptation of the Mahabharata into a TV series. He was also casting director, associate director and production designer on the show. His portrayal of Shakuni was so popular that he appeared in Paisa Phenk Chunav Dekh, a satirical news show on Sahara Samay Rashtriya as the character, where he analyzed political trends. He played Shakuni again in 2011, in the TV serial Dwarkadheesh – Bhagwaan Shree Krishn for the now defunct channel Imagine TV. Prior to this he had essayed another villainous role, that of Britisher Charles Metcalfe, in the historical series Bahadur Shah Zafar on Doordarshan.
The brother of comedian Kanwarjit Paintal (often referred to and credited as just 'Paintal'), Gufi has also done character roles in several Bollywood movies of the eighties and nineties, such as Kranti (1981), Dahleez (1986), Heer Ranjha (1992) among others. He now seems focused on direction. He has directed Shree Chaitanya Mahaprabhu a film on the 16th century saint by the same name and a Chhattisgarhi movie called Mahatari. The interview takes place in the living room of his Andheri flat, over cold drinks. There is a large fish tank next to us. Sunlight streams in. The sound of his cook bustling about in the kitchen merges with that of morning traffic. Gufi answers each question in a relaxed, yet brisk manner.
What was your journey into the movies like?
Paintal (Kanwarjit Paintal), my younger brother, the comedian and me were always working on little plays, among ourselves during our childhood. We used to enact small shadow plays based on what we saw in the movies, because my father was a veteran cameraman of his time, way back, in Lahore. So it was a fascination and we were always dreaming of getting into films. But in those days the rules were very different because the kids used to never select their own careers like they do today. My father, after I finished school, thought I should study engineering. So after graduating as an engineer I joined the Tatas in Jamshedpur, Bihar, when there was a defence emergency because of the China war. So I served with the army, from Bihar, for a few years, and then went back to working with the Tatas. I was transferred to the Tata Engineering & Locomotive branch here in Bombay from Jamshedpur. And by the time I had arrived my brother had already graduated from the Film Institute (Film and Television Institute of India or FTII). He had got his first break and had begun to establish himself. He knew of my fascination for films so he said, 'Forget it, you're just doing it (engineering) because dad wanted you to do it. So now, since I am here, you join my line only.'
While I am four years older than my brother he's actually senior to me, in this line, by four years. He and Asrani had been accepted, in a big way, at that time by the industry and that was a big help. First I joined as an assistant director, at the age of 24. I was behind the camera. Then I began getting character roles. Then I joined as one of the technical heads in B.R. Films and I started looking after the ads division. I used to direct ads also for B.R. Films, under the banner of 'B.R. Ads'. And then it so happened that we did Mahabharat and the rest is history.
You've said your most memorable role is that of Shakuni, in Mahabharat. How did you get the role? 
I was the technical head, associate director, production designer and casting director of Mahabharata. So I selected actors after interviewing and auditioning about 3500 people. I would select three to four persons per character and then show it to my seniors, especially B.R. Chopra, Dr. Rahi Masoom (Raza, an Urdu poet) and Ravi Chopra. And we would sit together and decide who was the best one for a particular role. I also suggested people for Shakuni, but they had already me in mind. So it came on a silver platter. Actually I had played the villainous Britisher Charles Metcalfe for them, opposite Ashok Kumar in Bahadur Shah Zafar, a TV series on the last Mughal Emperor. They were impressed by that performance.
Is there any other role, that you enjoyed playing apart from Shakuni?
There is a role in Sauda that I enjoyed. That was the role of a patriot who was being hanged by Britishers. This man is being hanged, his mother comes to meet him in jail and he says, 'See I'm perfectly alright, I'm not nervous.' And she says, 'Dekho, jab se tumko phasi mili hai, toh mera ghar nahin hai, mandir ban gaya. (See, since you have been condemned to hang, my house has become like a temple.)' So I still remember that role. Then I remember Metcalfe's role. There was a picture called Suhaag (1994) with Akshay Kumar and Ajay Devgan. I played Akshay's uncle. I enjoyed that. And then I enjoyed Heer-Ranjha (1992). I was the villain— Kazi. And then most recently I've acted in a Punjabi film. I play the father, a sardar. Then there's another film in Chhattisgarhi, Mahatari. Then there was one with Dharmendra— Maidan-e-Jung. I feel all my roles have had something to say.
What was it like to work with Mr. B.R. Chopra? What was he like as a person?
He was a very deep thinker and he would give a lot of importance to the screenplay and the story. Of course, dialogues and lyrics as well. He was a very well educated man, a double MA in his time and a renowned journalist. He started his career as a film critic in Lahore. And he was really 'forward thinking'. He used to make pictures which were 20 years ahead of their time. All the films, if you take them, right from olden times…  Sadhna was a film in which he wanted to say that even a prostitute has got a right to marry, or get settled. Then there was Ek hi Raasta, about widow remarriage. Then there was Nikaah, which was about talaq (divorce) by women. Insaf ka Tarazu was about a woman being raped, which is now a major issue, but which was made 30 years back. He used to always have something socially relevant to say.
What were some of the reactions to your role as Shakuni?
It was great. They used to hate me on television but they loved me otherwise. I still get invited to places as Shakuni mama, but they love me and they've given me a lot of respect and a lot of memories, so I've got no regret. In fact, a very big Hollywood actor said that good, bad or ugly, whatever role you get, every actor must get one role to be recognized with. So once he's recognized, label lag jaata hai (the label will stick). People have got faith that you can give him any character, he'll be able to perform. So that was one good thing that happened with Shakuni, that people started relying on me, thinking that I can do a good role and a bad role.
Did you face the risk of being stereotyped as a villain after playing Shakuni?
I am always experimenting. I do very, very different roles. I am not copying Shakuni at all. Apart from 20 years after Mahabharat when they called me for Shakuni (for the serial Dwarkadheesh) again, when I accepted. In between lots of people wanted me to do it but I used to say no, because I knew that I cannot surpass it (his performance as Shakuni in Mahabharat), so it was useless trying. This time because they really wanted me and because it had been a long while, I accepted. Also because it was a good production house— Sagar Films.
You have done a lot more of TV than mainstream Hindi films. I've seen a lot of other character actors working more in TV too. Is there a reason why TV is a preferred medium?
It's just to vent your desire to act. At least you are busy. Also because you have to wait for films for a longer period before the films release. In this case you don't have to wait and you're being seen in a more regular way. And it pays well.
Is there a difference in the medium— how actors perform in TV and film?
Performance wise I would say no. But we actors tend to give our best to cinema and definitely there's sustainability in films. I would say cinema is like a mother. TV will never be able to compete with it. TV can adopt cinema into its medium. You can see a movie on TV. But you cannot watch a TV serial on the big screen. Also actors now are freer to do little bit more of their stupidity—what they would like to call 'acting'—on TV. But in cinema they are more controlled because that is only two hours and those two hours are being looked after by the director and his team. But in TV nowadays, once you give an actor a character, no one really bothers about what you're doing. You're just doing your job the way you think best. I'm also very disappointed because the directors very often change in the course of shooting a serial. In some cases they change in a matter of hours. So directors don't always know what you're doing, so whatever you're doing is okay. That is not so in films. In films there is one captain— it's he who sails or sinks the ship.
You've directed a film on Chaitanya Mahaprabhu…
Yes. Shri Chaitanya Mahaprabhu. It was produced by people who made Abhimaan, Ambitabh's (Bachchan) film. And we had very powerful actors like Sachin Khedekar, Madhu and Saheb Chatterjee from Calcutta who played the main lead. There was Sushmita Mukherjee also. The film was about the life of Chaitanya Mahaprabhu, who was supposed to be a reincarnation of Lord Krishna. How he took birth, who he was, his journey. I can't really call it a biopic because, like the Mahabharat, there are many versions of his story. So this is a fictionalized account, in a way.
I've also directed another one called Mahatari in Chattisgarhi, which is yet to be released. I've directed it with the local cast and local technical crew from Raipur. Also, I did a lot of assistant or associate directorial work with B.R. Films, from 1978 till 1997, when I resigned. Mostly during those years Mr. Ravi Chopra used to direct the films or TV serials. And some major films, when he was healthy, Mr. B.R. Chopra would.
Do you feel that character actors get due recognition from directors, or the audience?
Not in the way they used to. Because now if you throw a stone it'll land on an actor somewhere. And it is very sad that today the scene has changed so much, because the casting directors and coordinators function in such a way that a 25 or 16 year old boy or girl is cast as a father or mother, or a 30 year old is cast as a grandfather— so it's not authentic. In our times the heroes were a little too old, and they would still be playing college boys. But today it's the reverse. Now the older characters are being done by youngsters.
Is there any incident from your shoots as a character actor that keeps coming back to you?
For my first film, a film called Dimple, I was playing a villain. I was shooting for it in December in Mahabaleshwar. It was Bhagyashree's father's film— Mr. Vijay Kumar Sanghvi, Prince of Sanghvi. Satish Kaul and Rita Badhuri were the hero and heroine. So I was supposed to be boating in the lake and it was freezing. It was foggy all over. I remember it must have been around four in the evening. I was supposed to be rowing the boat, with the heroine in it.  After sometime the hero was supposed to come with his friend and his boat was supposed to ram my boat and he was to take the heroine into his boat and overturn mine.
Now I hadn't told anyone I didn't know swimming at that time. I was very young and was scared that I will be taken out of the film. This kind of fear is there sometimes, in new actors. So I didn't mention this till he hit the boat and it overturned and I fell into the water and began shouting, 'Help me, I'm going to die, I'm sinking.' They thought I was acting while I was actually getting frozen. It was almost 4 or 5 degrees. Finally they thought, 'Why isn't he coming out?' So people dived in and took me out of the water. I was half dead. And then they poured some brandy in my mouth and that's how I survived. Then I told them, 'I didn't know yaar. I'm sorry. I was scared you would take me out of the film.'
|
'The rest is history.'
Special
December 2013

By Alyssa Lobo
Alyssa Lobo is Junior Correspondent at The Big Indian Picture.

By Nishant Shukla
Nishant Shukla is a mumbai based visual artist. He pursued a master's degree in Photography at the University of West London. His personal work has been exhibited at Fresh Faced and Wild Eyed, 2009 at The Photographers' Gallery London, Photomonth 2010, Watermans Gallery and the PM Gallery in London. He has also showed his work at the United Art Fair in New Delhi. Nishant currently balances his time between photographic commissions and video work.